Motor Racing Gets a Trailer-Lift
Trailer-Lift is a car trailer / combo for use in all areas of the automotive industry.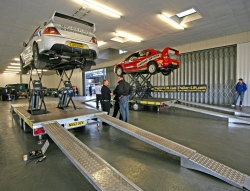 Bull Shoals, AR, May 06, 2011 --(
PR.com
)-- Trailer-Lift looks like a traditional vehicle trailer but incorporates a specially adapted scissor lift which means that servicing and repairing vehicles can be carried out at the customer's office or home. However, another of its uses is in motor sports. Access to a full service lift is not always easy, even at the best race circuits in the World, in fact impossible at some locations, which can include off-road situations like a rally.
If a quick underside repair is needed to sort out a problem like a fuel line or exhaust issue, quite often it's the use of trolley jacks and axle stands that are employed to make a hasty repair. This of course can be at the most inconvenient time, like during a qualifying session. Grid position is everything at some events, so it can make the difference between being a winning team and an "also ran." Trailer-Lift has now been modified for use at motor sports events. It is available with drive on, drive off ramps for quick inspections / repairs. It also incorporates a new beaver tail that can handle low slung race cars. The feed-back from race teams in Europe where the unit was invented, suggest that having a Trailer-Lift can reduce repair times by up to 60%. Trailer-Lift can also be used by race scrutinisers
http://www.youtube.com/watch?v=T-he92jsB38
to make a full vehicle inspection at any event. The Trailer-Lift incorporates its own power supply so can be used anywhere from Daytona to Dakar, even without a towing vehicle, just one of its unique patented features.
The unit was originally developed in British rally sports. Repairs between stages could be a nightmare, not to mention, very uncomfortable for the team member lying on his back in 3 inches of mud on a rainy day in Keilder Forest for example. The Trailer-Lift had proved to be a big hit with the rally race teams and it was then taken on by the MMC Group (Trailer-Lifts parent company) who spent 2 years developing and fine tuning the unit that is now available worldwide.
Peter Phillipson, Trailer-Lift's Vice President of Sales & Marketing (North America) has been delighted with the response from race teams in the USA & Canada. Peter commented, "Although just entering the North American market, Trailer-Lift is getting great interest from a wide cross section of motor sport teams, from Nascar through to dirt track racers. I have worked with race teams in the past including F1, so fully aware of the ticking clock when quick repairs are required. I am confident that Trailer-Lift will be a big hit with North American race teams."
Trailer-Lift can be contacted at T: 870-445-3847
Email: peter.phillipson@trailer-lift.co.uk
www.trailer-lift.com
###
Contact
Trailer Lift Ltd
Peter Phillipson
870-421-7720
www.trailer-lift.com

Contact