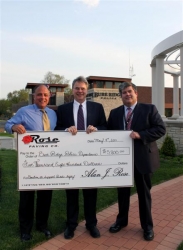 Bridgeview, IL, May 12, 2011 --(
PR.com
)-- As part of its corporate community relations program, Rose Paving Company, headquartered in Bridgeview, IL, has donated $5,800 to the police department of neighboring Burr Ridge. Alan Rose, CEO, made an announcement regarding the donation during the Burr Ridge Village Board Meeting on Monday, May 9, at 7:00pm. In attendance were members of the board, trustees, Mayor Gary Grasso, Chief of Police John Madden and Deputy Chief Tim Vaclav.
The donation will support the Burr Ridge Police Department by providing four Taser Electronic Control Devices and one custom lettering package for a squad vehicle. Each Taser is equipped with a TaserCam, a camera that records both audio and video while it is being used. Since first being introduced, there have been several instances where the threat of use, or even mere presence, of a Taser has stopped a dangerous situation from escalating. "In most of these cases, there is no doubt our officers would have been required to fight with individuals, strike them with their batons, or use deadly force to protect themselves or others," remarked Police Chief John Madden.
"Reaching out to the surrounding community is of tremendous importance to all of us at Rose Paving. This donation is of particular significance to me because I reside in the area, and it will help every officer on patrol be equipped with this valuable tool. The officers and suspects will be better protected from injury as well," said Alan Rose, CEO. "Furthermore, I hope this contribution will raise awareness for public safety while also encouraging other charitable outreach programs to donate to their local law enforcement agencies."
In addition to this effort, Rose Paving's community relations program contributes to or sponsors a wide-range of community endeavors throughout the year. Read more about the program at www.rosepaving.com/community-outreach.
About Rose Paving Company:
Rose Paving Company leads in providing complete parking lot management solutions to commercial and industrial properties nationwide. Through strategic business units (SBUs), unique in the industry, Rose Paving is able to offer an expert approach to parking lot management for each situation or circumstance in a specific region.
Rose Paving performs all services related to paving including asphalt patching and repair; asphalt resurfacing; advanced sealcoating; hot cracksealing; installation and repair of concrete curbs, walks and pads; storm sewer repair and installation; lot marking; and green paving solutions.
Established in 1974, Rose Paving Company has three decades of leadership and an impressive, nationwide customer base. Rose Paving is a privately held company that maintains its corporate headquarters in Bridgeview, Illinois, and operates branch offices nationwide.
###