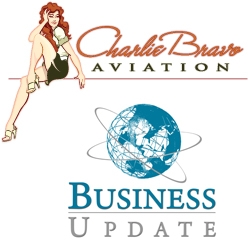 Georgetown, TX, May 12, 2011 --(
PR.com
)-- Charlie Bravo Aviation has announced that they will be featured on an upcoming episode of Business Update.
This particular episode will focus on private aviation and the misconceptions associated with the industry. The segment seeks to educate the businessman or business owner on the indirect return of investment and other advantages of flying privately.
"I think this partnership with DMG Productions with their media connections will help educate the non-aviation business world about the viability of private aviation as a competitive differentiator," said Rene Banglesdorf, CEO of Charlie Bravo Aviation. "Often I think the importance of this industry to our GDP really gets lost in the glitz and glamour of the five percent of its consumers who use general aviation as a luxury."
"Many people are just merely uneducated about private aviation. We are excited to partner with Charlie Bravo to shed some light on the topic and debunk popular opinion," said Vince Moss, producer for the series. "Here's an industry leader owned by women, in a predominantly male-run business. We love to see that, and are especially pleased to feature them on our show."
About Business Update:
Business Update is a corporate-America type series covering the world of business, finance and technology. From Main Street to Wall Street, our award-winning producers take an in-depth look into some of the hottest topics and current trends impacting our society.
For more information visit: www.dmgproductions.org or call (866) 496-4065.
About Charlie Bravo Aviation:
Charlie Bravo Aviation is an aircraft sales and acquisitions company that sets itself apart with unsurpassed market knowledge and a reputation for both tenacity and creativity. From its headquarters just outside of Austin, Texas, Charlie Bravo Aviation sells business jets and turboprops all over the world. The company's customers range from celebrities to Fortune 50 corporations to foreign governments. As the only Women Business Enterprise National Council (WBENC)-certified reseller of aircraft, Charlie Bravo Aviation is blazing a trail in the 96 percent male-dominated aviation industry.
For more information, visit: www.WePushTin.com or call (512) 868-9000.
###