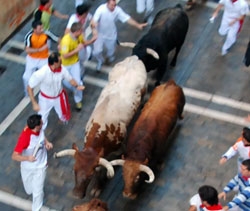 Seattle, WA, May 22, 2011 --(
PR.com
)-- The Feria del Toro has been an important part of Pamplona's world famous festival for more than 100 years. The 8-day festival of the bull, more commonly referred to as el encierro, or "the running of the bulls," was a favorite of Ernest Hemingway and has been a major attraction for the tens of millions of visitors the city has received in the years since the release of The Sun Also Rises in 1926 and Fiesta (UK) in 1927.
Casa de Misericordia, the owners of the Plaza del Toro and a charity, unique within Spain, has selected the bull ranches, Granderías, for this year's bull festival. This year's cartel include the following bull raising ranches: 
Miura (Sevilla), Victoriano (Madrid), Cebada Gago (Cadiz), Torrestrella (Sevilla), Dolores Aguirre Ybarra (Sevilla), Nunez del Cuvillo (Cadiz), El Pilar (Salamanca) and Fuente Ymbro (Cadiz).
The award for the best bulls of SF2010 was shared by the Fuente Ymbro & Victoriano ranches.
Hemingway's final appearance in Pamplona was in 1959. This year marks the 50th anniversary of his death on the eve of San Fermín two years later.

 Dressing for the Fiesta.
Iberian Traveler - Maribel's Guides, in association with Peña Seattle, are offering selected packages for Sanfermín 2011. The packages include the Basic and Standard hotel programs at 3-star and 4-star hotels in the city, in addition to the exclusive packages now being offered in the newly renovated 4-star luxury hotel, the Palacio Guendulain, an 18th century former palace built by D. Sebastian de Eslava, Viceroy of New Granada. This magnificent hotel, with only 25 rooms and suites, is located in the heart of old city, a few steps from the town hall square and the Plaza del Castillo, the center of the fiesta.
Premium bullfight tickets are available on a limited basis for all hotel clients wishing to attend a bullfight during the festival. The seats are located in the tendido sombra, lower level shade, of sections 1, 2 & 3. Additional tickets are available for the upper shade seats.
Recognized by the Tourist Office of Spain and the Government of Navarra as the leading expert for the fiesta in Pamplona, Iberian Traveler offers their clients the unique opportunity to become a part of the fiesta itself, including joining the holy procession of San Fermín on the morning of the 7th.
As part of their services, Iberian Traveler can arrange private transfers from Spain's major airports including San Sebastian-Donostia, Bilbao, Barcelona and Madrid, as well as from Biarritz in southwest France (the Pays Basque).
Private guides and city tours for individuals or small groups are also available throughout the fiesta.
See their latest newsletter at: www.iberiantraveler.com/newsletters.html
###