Corengi Launches New Animated Video to Help Type 2 Diabetes Patients Better Understand Clinical Trials
www.corengi.com simplifies clinical research with new educational video and matching engine to help diabetes patients identify suitable trials.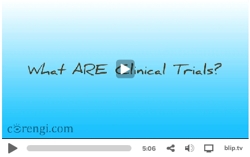 Seattle, WA, June 01, 2011 --(
PR.com
)-- Corengi, Inc. today announced it has launched a new animated video entitled "What ARE Clinical Trials?" The new video – available at
www.corengi.com
– is a short, humorous program explaining many of the key concepts used in clinical research. Along with a number of other concepts, the video explains the different phases of clinical trials, highlights the differences between interventional and observational trials, provides examples of inclusion and exclusion criteria, and describes the purpose of an Institutional Review Board (IRB). Corengi produced the video to help the 27 million diabetes patients in the United States understand more about the convoluted process of clinical research.
While it does spotlight some aspects that are specific to diabetes, the video is an educational tool that anyone can use. Andrew Schorr, founder of PatientPower® and author of The Web-Savvy Patient, endorsed the new video, commenting, "This can be used by anyone with any ongoing health concern where participating in clinical research should be one option to consider. As a trial participant from years ago, I wish I had seen this to help me better understand the clinical trial world."
"The video helps explain in detail what a clinical trial is," adds Cherise Shockley, founder of Diabetes Social Media Advocacy®, a weekly Twitter chat and radio program. "It explains the who's, the what's and the why's. This is a great way for anyone with diabetes to learn more about clinical trials."
"This type of information is what patients need to make better-informed decisions and manage their healthcare options to enhance their lives," explains Jake Fry, a director at Sound Medical Research, a clinical trial site in Washington State that conducts diabetes research.
"Among diabetes patients who have participated in a clinical trial, the vast majority describe it as a very positive experience," concludes Ryan Luce, co-founder of Corengi. "The challenge is that many other patients don't completely understand what clinical trials are and how they work. With this video, we hope to provide more insights into the process, and encourage more type 2 diabetes patients to consider them as an option."
Corengi is committed to helping patients with diabetes understand more about clinical trials and help them find clinical trials that are right for them. To view the video or use Corengi's clinical trial matching engine, please visit www.corengi.com.
Note to editors: Ryan Luce is available for interviews to talk about the new video and Corengi's mission.
###
Contact
Corengi, Inc.
Ryan Luce
(206)-313-4884
www.corengi.com

Contact