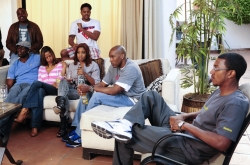 Chicago, IL, June 11, 2011 --(
PR.com
)-- Dysfunctional Friends, a comedy/ drama about a group of college friends who reunite after the sudden death of their larger then life friend Dennis (Keith Robinson), was recently one of five films chosen to compete in the Narrative Features category at this years ABFF held July 6th-9th in Miami. The film stars an all star cast of Meagan Good, Stacey Dash, Tatyana Ali, Essence Atkins, Vanessa Simmons, Erica Hubbard, Hosea Sanchez, Wesley Jonathan, Jason Weaver, Datari Turner, Reagan Gomez, Persia White, Stacy Keibler, Rodney Jerkins, Dennis White, Antwon Tanner, Meagan Markle, Christian Keys, Laila Odom and NFL Superstar Terrell "T.O." Owens making his big screen debut.
"We very excited that Dysfunctional Friends could be apart of ABFF this year for the festivals fifteen year anniversary which is sure to be historic," said the producer and one of the stars of the film Datari Turner.
"As an African American Filmmaker, we have to support our films at the box-office, in festivals and support our fellow filmmakers. I thank Jeff Friday (ABFF Founder) who I first met when I was just 19 years old for the opportunity and for being instrumental in providing a platform for black filmmakers all over the world."
The 2011 American Black Film Festival, which marks it's fifteen year anniversary this year, will have a slew of legendary filmmakers on hand including Spike Lee, John Singleton, Bill Duke, Robert Townsand, and Keenan Ivory Wayans who will be honored at this years festival.
Dysfunctional Friends was written and directed by newcomer and Howard Alum Corey Grant. The producers are Datari Turner (Video Girl, Another Happy Day, L.U.V) and Greg Carter (American Dream).
The addition of Terrell Owens joining the cast of Dysfunctional Friends was a major story line in the latest season of the hit series "The T.O. Show" on Vh1 which chronicles the sports superstars life away from the gridiron.
For comments and interviews please contact Shelly McAdoo at shelly@kingsoflaent.com
###