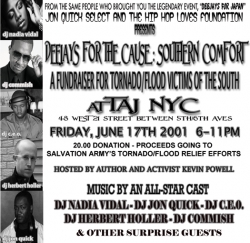 New York, NY, June 15, 2011 --(
PR.com
)-- On Friday, June 17th, Jon Quick Select Events, in association with The Hip Hop Loves Foundation are once again joining forces with some of NYC's favorite celebrity club deejays to throw the ultimate party for a cause.
"Deejays for the Cause - Southern Comfort" is a benefit event for the tornado/flood victims living in the southern region of the U.S. The event will be held at Taj II Restaurant and Lounge, located at 48 W. 21st NYC. It will be hosted by none other than renown writer/activist Kevin Powell. The all-star deejay lineup includes DJ Herbert Holler, DJ C.E.O., DJ Commish, DJ Nadia Vidal and organizer, and DJ Jon Quick.
It should be noted that on April 17, 2011, Jon Quick Select organized a similar event, "Deejays for Japan," which ended up raising over 3500.00 for Japanese earthquake relief.
The event is slated to start 6pm after work and will go until 11pm that evening. Donation is 20.00 at the door. All door proceeds will be donated to Salvation Army southern tornado/flood relief efforts. For inquiries, please email Jon Quick at specialevents@djjonquick.com.
###