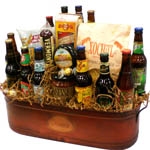 Los Angeles, CA, June 16, 2011 --(
PR.com
)-- www.bisouboutique.com Bisou Boutique, the woman owned independent e-shop gift boutique, has launched its gift basket service this Father's Day week with their Mega Microbrew Beer Basket.
According to the company, the gift basket beers and products are hand-selected with some of the most popular American microbrews and paired with a range of award-winning gourmet snack foods. The beer gift basket comes in a large metal beverage tub capable of holding twelve beers on ice and an assortment of 12 American microbrews, cured sausage, gourmet cheese straws, artisan pretzel snacks, smoked gouda, a big bag of hand-made stone ground corn tortilla chips and dipping companion...Salsa. All items are packaged ready to enjoy. There is no need for gift wrap as each basket arrives in glossy clear shrink wrap with tasteful ribbon ties.
Bisou decided to launch the new service on Father's Day to show off the versatility of their product collection. "Guys like Bisou too," says says one Bisou staffer. "The last thing he needs is another tie; Father's Day is all about showing appreciation for Dad, and that means giving him something he really wants."
The company plans to roll out another 6 signature gift baskets to include foodie, wine and spa themes. Each gift offering unique, high-quality, tasty and fun pieces that can be used all year long.
Bisou's Mega Microbrew Beer Basket retails for $89.99. Future creations will range from $50.00 to $150.00.
###