HealthSaaS Integrates Translation Tools Into Cloud Based Personal Health Applications and White Labeled Solutions
HealthSaaS today announced they have upgraded all HealthSaaS cloud based PHAs and white labeled sites with complete translation capabilities.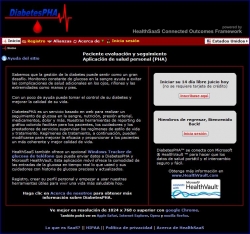 Clackamas, OR, June 21, 2011 --(
PR.com
)-- Integration of Microsoft® Translator allows HealthSaaS to deliver real-time, in-place translations in 34 languages.
Thoughtful User Experience: Progressive rendering allows pages to get translated without the user having to stare at a white space while the translation is being performed. The translation toolbar which appears when the process begins provides a progress indicator, languages selected and a way to turn off the translation. When browser language settings are not English all pages will automatically translate without any user input or intervention required. Pre-set preferences help deliver the optimal user experience.
Localized: The entire experience allows users visiting HealthSaaS powered sites to adjust browser settings and see all text in their preferred language.
Bob Tolar, President of HealthSaaS.net states "HealthSaaS feels a responsibility to ensure that our websites have a global reach. Making our services available in the cloud is one thing, but ensuring that our service is usable to people all over the world in their native language is equally important."
About HealthSaaS
HealthSaaS (HSI) is leading the Health 2.0 movement by creating cloud based health information technology solutions. Our patent pending Connected Outcomes Framework forms the foundation for disease and condition specific Personal Health Applications, Patient Centered Medical Home solutions, clinical trial services, white labeled offerings, Telehealth support tools, and mHealth applications.
Connectivity to EHRs, personal health platforms including Microsoft HealthVault and Dossia enable us to deliver solutions that improve results and lower costs for patients, employers, clinicians, provider networks and payors.
By working with industry leading alliance partners HealthSaaS has become a leader in enterprise class healthcare solutions.
www.healthsaas.net
###
Contact
HealthSaaS, Inc.
Frank Ille
503-882-8951
www.healthsaas.net

Contact