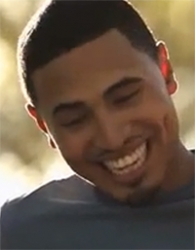 Rockford, IL, June 23, 2011 --(
PR.com
)-- For the past year, "Adrian has been working his tail off finishing his debut Album 'Lately.' We couldn't be more excited for him," said a spokesperson for Solaris Entertainment, his Producers. In fact, they sprung some news on him as well the moment his new album was finished. They had put him into a new television pilot titled "Bus Stops" a reality show focusing on the ups and downs of life on the road as a young and upcoming performer.
When Adrian heard about it, he was overjoyed until he learned there was nothing scheduled for Chicago or the surrounding area. He immediately insisted that his hometown of Rockford be the location to launch this exciting journey. But it wouldn't be that easy. His management and booking agents had already considered the Midwest and thought it better to stay on either coast. "Adrian came close to walking away from the entire opportunity," said Larry Walker, a spokesperson for Rivera. "Adrian insisted he had fans in his hometown of Rockford as well as the greater Chicago metropolitan area and was certain they would support him. Lets hope he is correct. Adrian is taking a huge gamble leveraging his freshman release and its first earnings to ensure his hometown was where he launched," the spokesperson said. Mr. Rivera said this new album would never have been possible without support from his hometown. Plenty of recording artists talk about never forgetting where they came from, and success won't ever change that. Adrian said he was not ever gonna be one of those guys and he threw in something about his mom whooping his tail if he even tried... Rivera places a very high value on his friends and family.
When Rivera's management looked further into a one off engagement in his hometown, they were less than convinced they could support an evening with so small of a population to draw from. Rivera again promised his fans would show and literally put his money where his faith was.
He will launch his US tour at home where it all began. He seems unconcerned about the TV project. All that remains now is to learn if Adrian's faith in his hometown was well placed. In an effort to make this an easy decision for his local fans, Adrian bought down the ticket price of 25.00 to 20.00 and make this offer through his fan club president, Mary Walker in Facebook.
Look for this private offer in Facebook under Adrian Rivera.
###