Best Vacuum Cleaners Under $100: New List Published
Finding a great vacuum for a great price is not easy but Vacuum Cleaner Advisor has just published a list of the Best Vacuum Cleaners for Under $100 to help buyers make the right choice.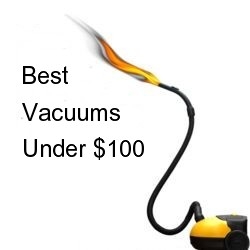 Seattle, WA, July 14, 2011 --(
PR.com
)-- In times of economic uncertainty, people are looking for the best bang for their buck. But it is easy to be misled. Manufacturers and retailers market vacuums with all sorts of confusing features and statistics, all heralding their products as the best machines for the money. Despite all the promotion, the truth is that many vacuum cleaners on the market today are simply inadequate, especially those that are inexpensive.
So, is it possible to get a good vacuum for less than $100? The short answer is "Yes" and Vacuum Cleaner Advisor has published a list of the
Best Vacuum Cleaners Under $100
to help. Vacuum Cleaner Advisor has been reviewing and rating vacuum cleaners since 2007 and helps take the guesswork out of making the right choice.
The list contains two upright models, a stick vacuum, and three canister models from Hoover, Dirt Devil, Eureka and Electrolux. These units have been chosen for their features, performance and consumer ratings, in addition to their low cost.
Heading the list is the Hoover U5140900 Tempo Widepath vacuum. This popular bagged upright has received very good reviews from thousands of owners, many of whom feel it is an exceptional buy. Suction is generated by a powerful 12 amp motor and it also comes with several attachments as well as HEPA filtration. Another popular feature is a headlight that allows one to see into dark areas or corners when vacuuming.
The second upright vacuum is the Dirt Devil Dynamite Plus. This machine is very inexpensive and can be purchased for less than some handheld units. Despite the low cost, consumer reviews and ratings are quite good. It is a very lightweight vacuum weighing less than 9 lbs and is also quite compact, allowing for easy storage. Like the Hoover, it comes with HEPA filtration; a great feature for those suffering from asthma or allergies.
The three canister vacuums on the list include the Eureka 3684F Pet Lover, the Eureka 3670G Mighty Mite and the Electrolux SC3683A. These canister models are all lightweight, powerful and inexpensive. They are also all slightly different, and the Pet Lover comes with a special tool for removing animal hair while the 3670G features a blower port. The SC3683A is listed as a commercial vacuum and it has a fully sealed filtration system to prevent dust leakage.
Read much more about these inexpensive machines and also find the top pick for a stick vacuum under $100 at
http://vacuum-cleaner-advisor.com
. Vacuum Cleaner Advisor provides vacuum cleaner reviews and ratings for a wide range of best-selling vacuums.
###
Contact
Vacuum Cleaner Advisor
Emily Choulasco
206-196-1762
vacuum-cleaner-advisor.com

Contact