Trupanion Becomes the First Pet Insurance Provider in Puerto Rico
Dog and cat owners in Puerto Rico now have an option for pet insurance through Trupanion.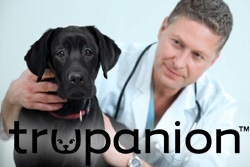 Seattle, WA, July 19, 2011 --(
PR.com
)-- Trupanion, the nation's fastest growing
pet health insurance
provider, has announced an expansion into Puerto Rico effective immediately. Trupanion is the first pet insurance provider to offer a policy to dog and cat owners in Puerto Rico.
While pet insurance has been available in the United States for decades, no provider has ventured into the unincorporated territory of Puerto Rico until now.
"This expansion will allow us to meet the needs of thousands of pet owners who have not had access to pet health insurance in the past," said Darryl Rawlings, Chief Executive Officer at Trupanion. "We look forward to adding many of these pet owners to the Trupanion family."
Residents of Puerto Rico can now obtain free quotes and enroll online at
www.trupanion.com
, or by phone at 800.569.7913.
Pet insurance covers the cost of unexpected accidents and illnesses in pets. Trupanion offers a lifetime pet insurance policy for dogs and cats with 90% coverage and no payout limits per claim or per year.
About Trupanion™
Trupanion™ pet insurance offers cat insurance and dog insurance in the United States and Canada. Trupanion™ is self-underwritten by the American Pet Insurance Company, allowing Trupanion™ to offer a simple, customizable pet insurance policy with no payout limits and 90% coverage of veterinary bills. Enrolled pets receive lifetime coverage for diagnostic tests, surgeries, and medications if they get sick or are injured, with no incident, annual or lifetime limit. Trupanion's mission is to deliver fast, simple and user-friendly financial support to pet owners. For more information about Trupanion™, call 800-569-7913 or visit http://www.TrupanionPetInsurance.com.
About the North American Pet Health Insurance Association
Trupanion™ is a founding member of the North American Pet Health Insurance Association (NAPHIA). Founded in 2007, the North American Pet Health Insurance Association is committed to educating and promoting the values and benefits of quality pet health insurance to North American pet owners, the general public, and the veterinary community. As an association, we are committed to high standards and transparency in all of our actions and products. To learn more, visit the North American Pet Health Insurance Association website at http://www.naphia.org.
###
Contact
Trupanion
Heather Reynolds
800-569-7913
www.trupanionpetinsurance.com
888-738-7478 ext. 3124

Contact