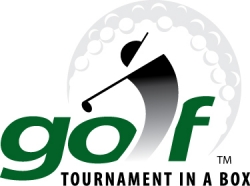 Fresno, CA, July 20, 2011 --(
PR.com
)-- Today Golf Tournament in a Box (GTiaB) announced the launch of golftournamentinabox.com, a website that showcases their innovative custom line of golf tournament products and services. The site provides golf tournament organizers across the country with a new and convenient way to purchase and customize the products they need for a successful and profitable golf tournament.
Golf Tournament in a Box was conceived in response to several golf courses, non-profits, and corporations who were seeking a better, more efficient way to run a profitable golf tournament. GTiaB has created the first all-in-one box containing everything you need to make your tournament a huge success. With the details taken care of, customers, golf courses and tournament sponsors can prepare for a much more enjoyable, upgraded and profitable tournament.
Golftournamentinabox.com combines tournament expertise with easy-to-use shopping cart technology. The sites content was created and will be maintained by golf tournament architects who live and breathe the golf tournament industry. Its focus is to provide visitors an unparalleled content and technology experience to make planning and implementing a tournament as easy as possible. They make it simple to be successful!
"We are extremely pleased with the performance, simplicity and ease of use of golftournamentinabox.com," said Tim Leary, Partner of GTiaB. "We are proud of each and every thing we deliver to our customers right down to the fully functional, cutting edge custom box we deliver our products in. When our box is delivered, our customers think its Christmas morning!"
About Golf Tournament in a Box
Golf Tournament in a Box is a custom retailer of golf tournament products and tournament services in the United States, operating out of Fresno California. Golf Tournament in a Box was founded in 2011 by partners; John Bladholm, Tim Leary and Athena Willems.
Our products represent a broad selection of custom golf tournament merchandise, including pin flags, tee boxes, banners, sponsor signage, tour packages, banners and tour quality sponsor signage all customized by our design team. We provide our customers an engaging shopping experience characterized by a diverse, ever-changing merchandise selection at distinctly competitive prices.
###