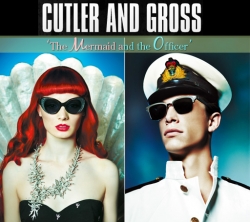 Los Angeles, CA, July 23, 2011 --(
PR.com
)-- The highly anticipated
Cutler and gross eyeglasses
summer 2011 collection is now available at Eyegoodies.com.
Cutler and Gross was founded in 1969 by Graham Cutler and Tony Gross who opened their optical boutique in Knightsbridge London stocking handmade bespoke frames. Since their inception, their one of a kind luxury eyeglasses were an instant success and an integral part in forever shaping the landscape of the industry. Other brands often try to imitate and take inspiration from Cutler and Gross eyeglasses, but there is nothing quite like the real thing; A difference which can not only be seen, but a quality which can be felt.
While most designer frames are mass produced using flimsy injection molding techniques, the manufacturing process that Cutler and Gross employs is both expensive and time consuming; there are no short-cuts taken and no detail over looked in the handmade frame building which takes 3 weeks. This manufacturing process has become a lost art today. A pair of Cutler and Gross eyeglasses is made to last a lifetime, "The real McCoy" not just another designer decoy.
In their latest Spring/Summer 2011 collection entitled "The Mermaid And The Officer," Cutler & Gross captures our imagination in a tale of romance and seduction. Inspired by the lyrics of Tim Buckley's classic "Song To The Siren," they show us their softer side. "Dreamy ocean hues of seaweed green, glittering blues and blacks, nude net and sand all for the Mermaid to entice her Officer, who in return compliments her in emerald green, smokey quartz, petrol and of course the classic and chic dark tortoise shell, but this time with a brand new matte finish."
Cutler and Gross eyeglasses
are certainly captivating with a collection and campaign in which you can practically smell the sea breeze and feel the warm summer sun…
With a wide range of new styles and unique colors options one is sure to find that perfect frame for the sunny days ahead. The new Cutler and Gross eyeglasses Summer 2011 Collection is now in stock at Eyegoodies.com.
Shop:
Cutler and Gross Eyeglasses
Read more in their blog about:
Cutler and Gross Eyeglasses
Summer 2011.
###