Pinnacle Performance Sales/Customer Service Training Program Gains Momentum with Tire/Auto Service Industry
Unique sales/customer service training program continues to build support within tire and auto service industry.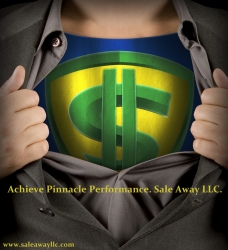 Boston, MA, August 05, 2011 --(
PR.com
)-- The Pinnacle Performance Sales / Customer Service Training Program continues to receive high acclaim from tire and auto service businesses across the United States. Produced and hosted by Sale Away LLC CEO, Steve Ferrante, the program targets tire/auto service sales and management personnel and focuses on best practices, strategies and techniques to improve customer relations and produce greater sales results.
Since January 2010, over 1900 tire and auto service professionals have gone through the initial full-day seminar-style training program. Attending personnel ranged from new recruits with less than 6 months industry knowledge to seasoned veterans with well over 20 years experience. All attendees completed a post-seminar evaluation that rated the program on overall content, instructor and presentation. The response has been outstanding with over 90% of participants enthusiastically rated the program a perfect 10 out of 10. Less than 5% of participants rated the program below a 9. Wes Reeves of Blacks Tire & Auto Service in North Carolina was one of over 80 company employees that participated in the program, "A 10! I have attended at least 50 of these. This far exceeds all of them. Great content, excellent instructor and outstanding overall presentation!"
The widespread success of the program is credited in large part to the level of engagement the host, Steve Ferrante, has been able to achieve with tire/auto service personnel across the country. "Training, in general, is only as good as the trainer's ability to engage and truly connect with the target audience. Otherwise, it's treated as an event and no meaningful changes will materialize," Steve said. "Most people attend a full-day training session and anticipate a long boring session where the main things on their minds are when is lunch and when does this end. This is not that program," he added. Dennis Goddard of T.O. Haas Tire in Lincoln, Nebraska agrees, "The best seminar we have ever had, the day flew by. The topics were real, interesting and very useable for our business."
Having grown up in and around his families auto service business in Massachusetts and going on to successful sales/sales management roles in the business management consulting industry, Steve brings a unique combination of talents to the training table. Sean Furrier of Jack Furrier Tire & Auto Care in Tucson, Arizona commented, "You could call any one of our guys and get a raving review of the training, it is extremely effective. We were very pleased not only with the content, but also Steve's connection with our group as a highly accredited trainer who is from an automotive family – the perfect combination for stores like ours."
In addition to sales/customer service training and consulting appointments, Steve currently hosts the sales/customer service training blog on tirereview.com and has been a featured speaker for a variety of tire industry events including the 2011 Goodyear Dealer Conference, SEMA Show and numerous Tire Dealer Association conventions across the country.
For information on the training program that is the subject of this release please visit
http://saleawayllc.com/PinnacleAuto1.html
Sale Away LLC. provides High-Performance Sales / Customer Service Training & Professional Development Services to small and mid-sized businesses with specialization in the tire/auto service industry. To learn more about Sale Away services and solutions visit www.saleawayllc.com. Steve Ferrante can be reached directly at 1-866-721-6086 Ext. 701 or via email @ steve@saleawayllc.com
###
Contact
Sale Away LLC.
Steve Ferrante
866-721-6086
saleawayllc.com

Contact