Housing Slump Boosts Screened Porches' Popularity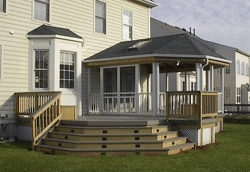 Washington, DC, August 05, 2011 --(
PR.com
)-- Long® Fence recommends screened porches for homeowners who want to extend their living space.
Screened porches
can be used for many activities, and they increase a home's appeal when built correctly with high-quality materials. According to a 2010 Fannie Mae National Housing Survey, eighty-seven percent of the population believed it was a bad time to sell their home. For many Americans, remodeling offers an ideal alternative to moving. Screened-in porches provide many instant benefits, and they will also boost the value of homes even more after the recession.
Screened-In Porches Considered One of Top 12 Remodeling Projects
One of the top twelve remodeling jobs, according to the NAHB is adding a screened porch. They may be charmingly old-fashioned, but they are also practical for creating additional living space and providing protection from the elements. Washington DC area homeowners escape the summer's heat, humidity and bugs, and use their screened-in porches for activities like dining, reading and relaxing with family.
Long® Fence Builds Eco-Friendly, Multi-function Screened Porches
Long® Fence installs all types of screened porches including
Ecolife
™ wood, aluminum, vinyl and three- and four-season vinyl sunrooms. Homeowners should expect to invest at least $30,000 for a well-built screened porch, and additional amenities increase the cost.
"You're really building an addition," says Tom Ritter, executive director of corporate sales. "You're just not adding heating and cooling. It's a very cost-effective way of increasing usable living space."
If you're thinking of adding a screened porch, consider:
• Placement. Your screened porch should not block main views or get too much direct sun.
• Light. A porch can reduce sunlight, but can be helped by skylights or a higher roof.
• Existing decks. In most cases, screened porches cannot be built over decks without reinforcement or foundation replacement.
• Maintenance. To reduce maintenance, choose easy-care materials like vinyl or aluminum.
• Amenities. Screened porches can have many amenities, including cabinetry, recessed lighting, cable and fireplaces.
About Long® Fence
Long® Fence, a family-owned business in operation since 1945, primarily serves the mid-Atlantic region from Pennsylvania to Georgia, however large scale government or commercial installations can be found in most of the United States. Notable projects include the US Open Championship at Congressional Country Club in Bethesda, MD and the Nationals Stadium in Washington, DC.
For more information, call 888-220-5664 or visit
http://www.longfence.com
.
Contact
Long Fence
Karen Richey
301-428-9040
http://www.longfence.com/

Contact