Muscle Dogg The Health Hound
Animated Tune Factory, LLC proudly announces the release of Muscle Dogg The Health Hound. Children all over the world have a new friend, protector and fitness buddy. He's Muscle Dogg, the Health Hound.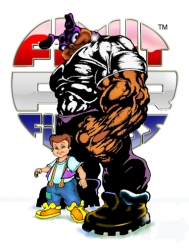 Columbus, OH, August 06, 2011 --(
PR.com
)-- This is a story about a boy and his dog- Muscle Dogg. Muscle Dogg has emerged to become The Health Hound, in defense of his ten-year-old little buddy Michael Harris. Michael Harris is like most children his age, who love to laugh, have fun and above all play video games. He is also one of several million children who suffers with childhood obesity and Type 2 Diabetes. Muscle Dogg's mission is to vanquish childhood obesity and other health disparities that afflict our children.
From neighborhood to neighborhood, more kids get involved and form the Pooch Pack. Along with the Pooch Pack Muscle Dogg is joined by his sidekick Flex the Flea. Together the team inspires hope, weight loss through exercise, healthy eating and portion control.
Swift, sharp and fresh with a bark like thunder, Muscle Dogg is here to take care of business. His business is fighting childhood obesity!
www.muscledogg.com
###
Contact
Animated Tune Factory, LLC
Deirdra Corbett
614-434-8107
www.muscledogg.com

Contact