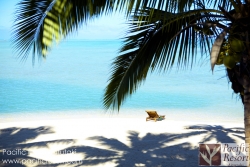 Rarotonga, Cook Islands, August 10, 2011 --(
PR.com
)-- Pacific Resort Hotel Group properties; Pacific Resort Aitutaki, Pacific Resort Rarotonga and Te Manava Luxury Villas & Spa have all been named as a Finalists in the 2011 HM Awards for Hotel & Accommodation Excellence, with winners due to be announced at the gala dinner in Sydney on September 2.
Pacific Resort Aitutaki and Te Manava Luxury Villas & Spa are region finalists in the "South Pacific Property of the Year" category, while Pacific Resort Rarotonga is acknowledged for its environmental initiatives as region finalist in the category "Environmental Program of the Year." And in a double celebration for the Pacific Resort Aitutaki, Julian Moore is also a finalist in the major award category of "South Pacific Hotel Manager of the Year." These accolades places Pacific Resort Hotel Group properties in formidable company along side the likes of the InterContinental Bora Bora Resort & Thalasso Spa, Sofitel Moorea Resort and Shangri-La Fijian Resort and Spa to name a few.
A record 1600 entries were received in 2011 and following hours of voting by over 20 judges, the finalists have been announced for 45 of the 48 categories to be awarded this year. "In so many awards ceremonies, it's all about the hotel itself. But the HM Awards are really about the oft-forgotten fact that the industry is so much more than just bricks, mortar, king size beds and goose-down pillows. It's the people that make hotels what they are and that's why we believe they should receive the most recognition," says James Wilkinson, Managing Editor of HM - Hotel & Accommodation Management magazine.
The HM Awards for Hotel & Accommodation Excellence are now into their 9th year and are the leading awards for the accommodation industry in the region. In the last eight years, almost 3600 people have attended the HM Awards and more than 400 awards have been awarded to hotels across Australia, New Zealand and the South Pacific. The HM Awards are annually hosted by leading industry magazine HM - Hotel & Accommodation Management. The awards are presented by Sealy and co-hosted by AHS Hospitality, Intrust Super, ISIS and Philips.
In 2010 Pacific Resort Rarotonga received the high distinction in the Best Environmental Program Award for Pacific Resort Rarotonga as well as South Pacific General Manager of the Year Award for Michael Shah from Pacific Resort Aitutaki.
###
Notes to Editors
About Pacific Resort Hotel Group
Pacific Resort Hotel Group is the Cook Islands leading full-service premium boutique resort operator with resorts and villas in Rarotonga and Aitutaki situated in unrivaled locations. Pacific Resort is a leader in environmental initiatives and strives to provide its guests the perfect blend of modern comforts and traditional island hospitality. For more information visit
www.pacificresort.com
About HM Awards
The HM Awards for Hotel & Accommodation Excellence are now into their 8th year and are the leading awards for the accommodation industry in the region. In the last eight years, almost 3600 people have attended the HM Awards and more than 400 awards have been awarded to hotels across Australia, New Zealand and the South Pacific. Annually, over 600 different properties are nominated. After a lengthy voting process by a key judging panel involving 50 industry professionals and travel media, the finalists and winners are then decided. For more information visit www.hmawards.com.au/Finalists.aspx