Rinox Products Replace Faulty Wall; Give Homeowners a Sigh of Relief
Homeowners were growing concerned with the failing timber wall originally installed to retain earth and support the back end of the home's driveway. Rinox products provided a permanent and attractive solution, creating happy homeowners.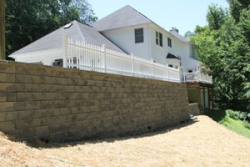 Douglassville, PA, August 10, 2011 --(
PR.com
)-- Homeowners in Landenberg, PA, were growing ever-concerned with the failing timber wall that had been installed to retain earth and to support the back end of this home's driveway. The owners needed a solution that would be both sturdy and attractive. Dan Kelly of Kelly's Landscaping is no stranger to constructing retaining walls and knew that
Rinox's Trinity Wall
would be ideal for this project. Every job has its challenges and this one had its fair share. Not only did Kelly's crew have to contend with the steep slope, but within that slope was the septic drainage field, requiring skillful excavation to be performed.
Rinox's Trinity Wall can be designed to retain massive amounts of earth and support large parking lots with ease. Engineering is a necessity on projects like these to ensure that the wall is designed to last without failure. Dan and his crew constructed this wall, complete with steps and a Prado patio on the top level to provide a great spot to enjoy a cup of coffee with a view into the forest.
With the Trinity Wall in place, the owners can breathe a sigh of relief knowing that they have a permanently engineered solution, installed by one of the best in the area. The end result is only as good as the actual installation, which is why it's important to hire a well-qualified contractor. Rinox has created a Preferred Contractor Program to find and partner with these highly capable installers. Yet again, Kelly's Landscaping has completed a fantastic job and created another happy homeowner.
Rinox Pavers is an industry leading manufacturer of concrete paving stones, patio pavers, retaining wall systems, landscape block and masonry products and has continued to make dreams come true in private homes and commercial settings throughout the Northeast United States and Eastern Canada. Rinox distributes their material through authorized dealers from their Pennsylvania facility to New York, New Jersey, Pennsylvania, Delaware, Maryland, Washington D.C., North Carolina, Virginia, and West Virginia. Rinox proudly displays their hardscape materials at local outdoor showrooms and offers instructional classes for the do-it-yourselfer. For those interested in having a contractor quote a hardscape project, log on to www.rinoxpavers.com to get started. For more information, or to enter your Rinox job into our
"Project of the Month"
contest please contact us at
www.rinoxpavers.com
or call 1-866-99-RINOX.
###
Contact
Rinox
Ira Vosper
610-323-6600
www.rinoxpavers.com

Contact