Finally a World Record
After two years of attempts the World Record Academy recognizes the World Record.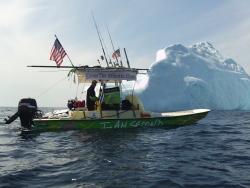 Tampa, FL, August 15, 2011 --(
PR.com
)-- The World Record Academy Recognizes two Florida Brothers, Ralph and Robert Brown for the Smallest Powerboat to Cross the Atlantic Ocean
From Tampa Florida to London England, The I Am Second Wounded Hero Voyage Officially Becomes the Smallest Powerboat to Cross the Atlantic Ocean and the First Flats Boat to Cross the Atlantic
http://www.worldrecordsacademy.org/travel/smallest_power_boat_to_cross_The_Atlantic_Florida
_brothers_set_world_record_112422.html
This voyage was partially sponsored by Norm Miller of I AM SECOND.COM and Interstate Battery, additional sponsors included Benco Insurance Planners, Suzuki Motor Company, Bex Voice Data, and Boat US.
The purpose of the voyage was twofold:
1. Ralph Brown wanted to show off his boat design that could run in just a few inches of water and still be safe on the high seas. That was put to test as they survived 11 days in major storms, including the remnants of two hurricanes in the deadly North Sea.
Ralph is an entrepreneur that won't give up despite the collapsing of the economy and difficulty he has had finding investors. He hoped this voyage would open some doors for investors.
2. The other reason was to fulfill a 30 year old promise to Sgt John Harvey, SSGT Dewey Johnson, and Cpl George Holmes who died in Operation Eagle Claw, the failed attempt to save the hostages in the Iranian Embassy Crisis. Ralph has a long term goal of raising $3,000,000 for wounded heroes in the honor of these men who stepped up to an impossible mission.
The Two Florida Brothers, who unknowlingly fulfilled the legend of Leif Ericsson and his brother Thorwald have also become known as The Last Vikings, are preparing to break the world, speed record for circumnavigation to demonstrate additional fuel saving hull technology Ralph has developed and to continue his goal of using publicity to raise capital for wounded heroes in honor of Sgt John Harvey, Cpl George Holmes, and SSgt Dewey Johnson.
For more information, contact Ralph Desmond Brown at 352-346-2365.
ralph@OceansQuest.com
###
Contact
Dream Boats Global
Ralph Brown
352-346-2365
www.dreamboats.net

Contact