Time and Gems Announces Over One Thousand Rolex Watches in Stock - Currently the World's Largest Online Rolex Retailer
Time and Gems, an independent retailer of pre-owned Rolex watches, has just added approximately three hundred additional Rolex watches to their online retail store, at TimeandGems.com, bringing their inventory to over one thousand Rolex watches in stock making them the largest online retailer in the world for used Rolex watches.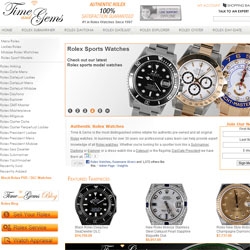 Los Angeles, CA, August 21, 2011 --(
PR.com
)-- "What many people don't know is that many online retailers selling
Rolex watches
and other Swiss brands do not actually stock a lot of their inventory," says David Reed, Sales Manager at Time and Gems. "These retailers often list stock images, or will acquire your watch from a wholesaler, once you make the purchase. Everything we have on our website is in stock so you know the watch you see is the watch you get."
The competition online for pre-owned Rolex watches is fierce, since Rolex and other high-end Swiss luxury brands such as Cartier, Audemars Piguet and Panerai tend to hold their value extremely well, especially in the pre-owned market, and have historically gone up in price regardless of the state of the economy.
Retailers such as Time and Gems, who have a large inventory and are turning this inventory quickly, have the advantage of being able to buy at a lower cost and pass these savings on to consumers almost guaranteeing that they can sell at the lowest price possible.
About Time and Gems
Time and Gems has been selling luxury watches, specifically Rolex, over the past 30 years and retailing to customers worldwide online for the past 9 years. Their collection of luxury watches including Rolex Datejust and Rolex Presidents is in the hundreds, making them the largest online retailer of Rolex watches in the USA. All watches are restored by
Rolex
certified watchmakers to Mint condition and come with individual appraisals and a 2-Year Warranty. They can be found online at their website
http://www.timeandgems.com
or at their store located in the heart of Downtown, Los Angeles.
Time and Gems is an independent company not affiliated with any watch manufacturer or distributor. Rolex is a registered trademark of Rolex Watch U.S.A. and Rolex International. Rolex prohibits their authorized dealers from selling online and discounting from Rolex mandated retail prices.
###
Contact
Time and Gems
James Roni
1-866-230-3138
http://www.timeandgems.com

Contact