Time and Gems Announces New Partnerships with Leading Luxury Goods Retailers - Brings Pre-Owned Rolex Watches to the Mass Market
Time and Gems, the largest online retailer of pre-owned Rolex watches, has just partnered with some of the top luxury retail portals on the internet, selling both Swiss watches and fine luxury goods including: Portero.com, Jameslist.com, Chrono24.com and Amazon.com.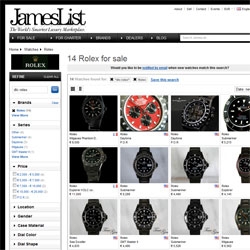 Los Angeles, CA, August 22, 2011 --(
PR.com
)-- "We're proud to be associated with some of the top luxury portals on the internet retailing our
Rolex watches
," says David Reed, Sales Manager at Time and Gems. "These sites attract the exact demographic that may be looking for our products while also giving their visitors an established and reputable vendor for pre-owned or customized fine Swiss timepieces."
Chrono24.com lists over 85,000 watches from 68 countries. Jameslist.com is touted as featuring more than 65,000 private jets, yachts, exotic cars, exclusive watches and luxury homes. Portero.com is the leading curated source for 'premium, pre-owned, prized' authenticated luxury goods. Amazon.com is the world's largest online retailer.
With hundreds of new e-commerce websites being established almost daily, the concept of branding is becoming ever more important. Those companies who can build a strong brand, along with aligning themselves with other complementary brands will not only increase their sales but have a huge competitive advantage over new sites just starting.
About Time and Gems
Time and Gems has been selling luxury watches, specifically Rolex, over the past 30 years and retailing to customers worldwide online for the past 9 years. Their collection of luxury watches including Rolex Datejust and Rolex Presidents is in the hundreds, making them the largest online retailer of
Time and Gems Rolex
watches in the USA. All watches are restored by Rolexcertified watchmakers to Mint condition and come with individual appraisals and a 2-Year Warranty. They can be found online at their website
http://www.timeandgems.com
or at their store located in the heart of Downtown, Los Angeles.
Time and Gems is an independent company not affiliated with any watch manufacturer or distributor. Rolex is a registered trademark of Rolex Watch U.S.A. and Rolex International. Rolex prohibits their authorized dealers from selling online and discounting from Rolex mandated retail prices.
###
Contact
Time and Gems
James Roni
1-866-230-3138
http://www.timeandgems.com

Contact