Worlds First Dual 17-Inch LED HD Display Laptop, Launched by gScreen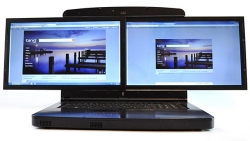 Anchorage, AK, August 29, 2011 --(
PR.com
)-- The SpaceBook 17-inch dual screen laptop will be shipping to customers in November 2011, starting at $1899 with free shipping and a 30-day money back guarantee to the USA and Canada. Designer, Gordon Alan Stewart, gScreen Founder and CEO, invented the SpaceBook because he needed a mobile workstation for editing video, photography and web design while traveling on a 6-month Hawaii film project.
Microsoft's, Ben Rudolph reviewed* the SpaceBook-
"...when I run across something that's truly groundbreaking, something totally unique and never seen before, I get excited. Like really, really excited. And that's exactly how I felt when I first got to use the gScreen... SpaceBook. The SpaceBook is unlike any laptop before it. Rather than have a single display, it has two that slide out from the center to create and amazing panorama display. Both panels are 17" full HD (1920 x 1080) glass, available in either a glossy or matte finish. It's a really amazing design that's really functional; the panels slide open and closed very easily..."
The SpaceBook will help users get up to 50% more work done when compared to a single screen alternative according to a Microsoft** study. The SpaceBook is a mobile workstation and a desktop replacement solution for business and personal use. Individuals and businesses from many industry sectors have ordered or shown interest in the SpaceBook, including, but not limited to: stock traders, doctors, digital content creators, photographers, cinematographer, engineers, accountants, sales, web designers and the US DOD.
The SpaceBook, at 10-pounds, weighs about 3-pounds more than the average 17-inch laptop (7-pounds), but gives users an extra full size 17-inch screen for mobile productivity. Specs include Windows 7 Pro, Intel i7 quad-core CPU with 8GB DDR1333 RAM, webcam, 500G HDD, NVIDIA discreet graphics, HDMI and Super DVD ODD. Customers can opt-into the free "Trade-back" program so that they can trade in their first generation SpaceBook for a 2nd generation when released and receive a 50% credit towards their new SpaceBook with new specs. Customers can also sign-up to become affiliates and offer the SpaceBook to their friends for $100-off while earning themselves $100.
The SpaceBook can be orderd from the gScreen store at:
www.gscreencorp.com
gScreen Computer Corp., is a privately held corporation located in Anchorage, Alaska.
*http://windowsteamblog.com/windows/b/windowsexperience/archive/2011/07/14/meet-the-gscreen-spacebook-the-world-s-first-dual-17-hd-display-laptop.aspx
** http://research.microsoft.com/en-us/news/features/vibe.aspx
###
Contact
gScreen Computer Corp
Tony Webster
855-907-1907
www.gscreenlaptop.com

Contact