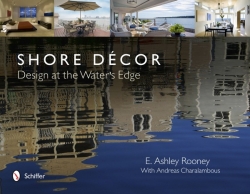 San Diego, CA, September 01, 2011 --(
PR.com
)--
Designed Interiors
was approached by accomplished author, E.A. Rooney, asking to publish photos of homes they have designed near the shore or that have a nautical "feel." The name of the book is "Shore Decor: Design at the Water's Edge. Rooney is the author of many beautiful coffee table books relating to design and architecture.
A home along the bluffs of Del Mar, a community of San Diego County, is the first of the projects designed by Designed Interiors shown. The craftsman style home has a vantage point that allows the homeowner amazing views of the coast. The leaded, beveled glass windows display views of the Pacific Ocean through their multi-paned, mahogany frames.
Another home displayed and designed by Kathy Abell of Designed Interiors, gives the person entering a feeling of being on an island in the Caribbian. The decor includes many tropical plants and woods. The highlight of the home is the hanging outrigger used as a light fixture.
Shore Decor, Design at the Water's Edge is a book filled with photos of 50 homes situated on a shoreline in the continental United States. From castles to rustic cottages, there are over 350 photographs in all.
Designed Interiors is honored to be a small part of this beautiful publication. A coffee table book that will inspire homeowners for years to come.
Shore Decor, Design at the Water's Edge can be purchased at Amazon.com or at a local bookstore.
###