New Book Encourages Businesses to Welcome Customer Complaints
Rather than avoiding customer complaints as a negative experience, author Jim Shaw promotes putting complaint management systems in place that will "vacuum up all complaints."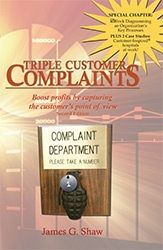 Issaquah, WA, September 06, 2011 --(
PR.com
)-- Rather than avoiding customer complaints as a negative experience, author Jim Shaw promotes putting complaint management systems in place that will "vacuum up all complaints."
"Seeing our organizations as our customers do is critical to achieving excellence," Shaw says. "The customer's point of view is the only perspective that counts. And customer complaints, when handled well, can create evangelists for your company."
Triple Customer Complaints helps business leaders determine how their customers define excellence and establishes quantifiable ways to improve processes so that they can meet—and exceed—customer expectations.
Dave Nave, a process architect and associate editor for a major non-profit organization, reviewed the book and said, "Triple Customer Complaints provides the practical material that is missing from current approaches, including six sigma and lean."
Written for executives and process owners facing the real-world challenge of creating and keeping customers, Triple Customer Complaints shows readers:
· How to walk in their customers' shoes to best identify which quality and operational performance measures should be tracked.
· How to use a structured roadmap that defines all aspects of a process as perceived by customers.
· How to use process qualification to achieve early, measurable results.
· How to identify and map an organization's processes so as to ensure that the customer's point of view is primary.
"Triple Customer Complaints not only puts the focus where it should be—on the gap between customer expectations versus what was actually delivered," says Bert Holeton, President of the Mastermind Group. "But then it guides you through a structured approach to correct any aspect of your business which is under performing to turn complaining customers into raving fans."
Triple Customer Complaints is available for purchase through Lulu.com at 40% discount and will be available in the next few weeks through Amazon.com and BN.com.
About the Author:
James G. Shaw is owner of Shaw Resources, which offers Performance Excellence consulting for hospitals and other high touch service organizations. He has served as a senior examiner and as an alumni examiner for the Malcolm Baldrige Performance Excellence program. Shaw holds a B.A. in physics and an MBA in finance and quality improvement from the University of California. He is a Certified Management Consultant (CMC®) and has authored one previous book, Customer-Inspired® Quality: Looking backward through the telescope, which was published by John-Wiley in its Warren Bennis Executive Briefing Series. Shaw lives near Seattle, Washington, and can be reached via email at JGShaw@CalAlum.org
###
Contact
Shaw Resources
Jim Shaw
877-546-7429
www.shawresources.com
JGShaw@CalAlum.org

Contact