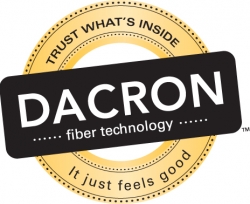 Kennesaw, GA, September 07, 2011 --(
PR.com
)-- American shoppers have spoken: when it comes to comfortable pillows, thread count barely counts. The North American DACRON® fiberfill brand team recently surveyed more than 1,000 adult consumers, who overwhelming agreed that it's the filling, not the ticking, that tells them how comfortable a pillow will be.
Eighty-five percent of respondents indicated "how a pillow feels" is most important in pillow selection, and 84 percent consider the filling the sole or a major contributor to comfort.
"Thread count has been a topic of the bedding conversation since the 1990s, and while it's still a metric in the equation, it doesn't seem to be swaying the way shoppers are choosing their pillows," said Brian Nix, segment manager for INVISTA's North America fiberfill business. "Consumers have told us that comfort, density, and how well they think the pillow will contribute to a good night's sleep are more significant considerations – and that's determined by what's inside."
According to the National Textile Association (NTA), filling material provides the overall support of the pillow. Thread count, as defined by the NTA, is a measure of the coarseness or fineness of fabric and is often used to evaluate the quality of the ticking, or covering, of a pillow. It is measured by counting the number of threads contained in one square inch of fabric or one square centimeter, including both the length (warp) and width (weft) threads. The thread count is the number of threads counted along two sides (up and across) of the square inch, added together.
The vast majority of those that the DACRON® brand team surveyed concurred with the NTA on filling, citing it as being responsible for the "right firmness/softness" of a pillow (85 percent), "keeping shape and loft" (85 percent) and overall comfort (84 percent). Moreover, 80 percent felt the filling was the leading indicator of whether the pillow would "improve quality of sleep." Three-quarters of the respondents also said filling is what makes a pillow "hypo-allergenic" and "machine washable and dryable," and 62 percent said it's the filling that helps the pillow "stay smelling fresh."
When presented with several pillows to evaluate, a majority preferred the one with DACRON® Performa® fiberfill and a ticking with a lower thread count.
Bedding products filled with luxuriously comfortable Comforel® fiberfill, durable and functional Performa® fiberfill, and long-lasting DuraLife™ fiberfill often can be identified by the DACRON® fiber quality seal. The DACRON® fiber quality seal is based on a legacy of fiber technologies that have earned people's trust for more than 50 years. In a 2010 nationwide survey sponsored by the North American DACRON® fiberfill brand team, two-thirds of consumers polled said they are familiar with the DACRON® brand, giving it one of the highest levels of consumer awareness among popular home furnishings brands.
About the Pillow Survey
The North American DACRON® fiberfill brand team sponsored an online blind consumer research survey with a nationally representative panel of 1,041 U.S. adult home textile decision makers. Two-thirds of respondents (64 percent) were female. Responders were young adults, ages 18-34 (32 percent) and ages 35-44 (14 percent); "Baby Boomers," ages 45-64 (44 percent), and seniors (10 percent). Respondents were geographically dispersed, with 18 percent hailing from the Northeast, 21 percent from the Midwest, 40 percent from the South and 21 percent from the West. Nearly half (48 percent) of the participants who agreed to disclose their household income categorized themselves as earning $25,000 to $75,999 annually; participants who said they made less than $25,000 or more than $75,000 were equally divided (21 percent each).
About INVISTA
INVISTA is one of the world's largest integrated producers of polymers and fibers, primarily for nylon, spandex and polyester applications. With a business presence in over 20 countries, INVISTA's global businesses deliver exceptional value for their customers through technology innovations, market insights and a powerful portfolio of global trademarks including: ADI-PURE®, ANTRON®, AVORA®, C12™, COMFOREL®, COOLMAX®, CORDURA®, CORFREE®, DACRON®, DBE®, DYTEK®, FRESHFX®, LYCRA®, PERFORMA™, POLARGUARD®, POLYSHIELD®, POLYCLEAR®, SOLARMAX®, STAINMASTER®, SUPPLEX®, SUPRIVA™, TACTEL®, TACTESSE®, TERATE®, TERATHANE® and THERMOLITE®. For more information, visit www.INVISTA.com.
###