Vietnam First Luxury Tour Operator Unveils Amazing Biking Tour in the Red River Delta
Lxuury Travel Ltd (www.luxurytravelvietnam.com) to Launch Biking Tour to Discover the Beauty and Charm of the Hanoi Countryside and Red River Delta.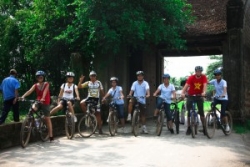 Hanoi, Vietnam, September 12, 2011 --(
PR.com
)-- During a full day escape from bustling Hanoi, travelers will be guided by an escort and experience the beauty of the Red River Delta. Travelers will visit some famous attractions, getting to know about the local lifestyle, while relaxing and soaking in a great experience.
Travelers will be picked up at the hotel by a Mercedes van and driven to Southwest Hanoi at Xuan Phuong Village, where travelers will start biking. Travelers will ride through the rich, fertile farmlands of the Red River Delta on their way to the first destination, Thay Pagoda. Thay Pagoda was built in the 11th Century, during the reign of King Ly Nhan Tong. Travelers will explore its complex temples, communal houses and pagodas nestled at the foot of a large limestone cliff formation, which is a characteristic of the area. It is said that traditional water puppet theatre originated here.
Luxury travelers then continue biking to Tay Phuong Pagoda where the unique collection of Buddhist statues have remained intact since the 17th century. After conquering the 239 stone steps, travelers will arrive at the main sanctuary and are free to explore. Following that, there will be lunch at a local restaurant.
In the afternoon, a car will take travelers to visit Son Tay Citadel located in Son Tay Village in Ha Tay Province. Located 60km from Hanoi, the citadel was erected in 1822. The body of the wall was built of hard sandstone with one gate on each side. The wall is surrounded by a 3m deep, 20m wide moat and each corner of the citadel was once armed with a cannon. Furthermore, there is the Kinh Thien Palace, which was the resting house of the king. It also served as residences and offices for provincial leaders, warehouses, and troop camps. Due to the passage of time and the effects of war, parts of the ancient wall were destroyed, but measures to prevent and restore this historic relic have recently been implemented.
Travelers will next drive to the Duong Lam ancient village, then start biking to explore the Red River Delta, with its village gates, banian trees, temples, communal houses, pagodas, and ancient homes that are more than 300-400 years old.
Travelers will see Duong Lam, an ancient Viet village, famous for its hundreds of brick houses. Travelers will also visit Mong Phu communal house, Mia Pagoda, Ngo Quyen Temple. Later, Travelers will stop and visit a local home, where three to five generations of a family may live. While travelers have some tea, travelers can chat with the owner about the village's history and the traditions of the local people.
Next, travelers will cycle to Va Temple, where they can witness the worship services for their national saint, Tan Vien, who according to legend, protects the Vietnamese people from the annual inundation.
The support vehicle will meet travelers at Va Temple and drive them to their hotel in Hanoi, bringing to an end a biking experience.
With all private services: door-to-door pick-up & drop-off services, transportation, lunch in the local restaurant, private bikes, and an English or French speaking tour guide escorted all day, the tour priced at 89 USD per person for a private party of 2 people – the offer is valid until 30 Sept., 2012.
"We are constantly breaking new ground to develop innovative and interesting new tours. This new biking trip introduces you to the lush countryside, rice fields and farming life, which has dominated Vietnam's culture. Cycling means you are truly among the friendly and welcoming local people. You'll be greeted by the curious children who often run out of their homes to yelling 'hello, hello!' or 'Tay' when you pass through their village. Our tour guide will do a fantastic job of guiding you around this beautiful countryside, explaining the history & culture of his people. We are sure you will enjoy this biking experience." - Hien Pham, Sales Executive, Luxury Travel Ltd.
The first luxury tour operator (http://www.luxurytravelvietnam.com) and full travel service agency based in Hanoi with offices throughout Vietnam, Cambodia, Laos, Myanmar and Thailand, Luxury Travel is exceptional in designing tailor-made tours and providing unique travel experiences. Opened in 2004, the Luxury Travel Company Limited has its own offices, luxury vehicles, luxury travel advisors, and sales offices in California, Paris, and Melbourne. The company's depth of experience and large infrastructure enable it to create unique itineraries with the operational confidence to fulfill client expectations. Luxury Travel Ltd won numerous travel awards for excellent performance including the most recent award: Best Luxury Tour Operator in Vietnam.
For biking tour booking, visit
http://www.luxurytravelvietnam.com
###
Contact
Luxury Travel Group Ltd
David Nguyen
84439274120
www.LuxuryTravelVietnam.com
5 Nguyen Truong To Street, Ba Dinh Dist, Hanoi, Vietnam

Contact
Multimedia
Luxury Travel Ltd (www.luxurytravelvietnam.com) to Launch Biking Tour to Discover the Beauty and Charm of the Hanoi Countryside and Red River Delta