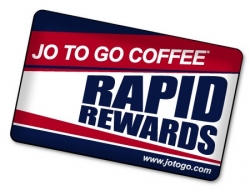 Green Bay, WI, April 08, 2007 --(
PR.com
)-- Jo To Go Coffee® is giving away the new Rapid Rewards Card hand over fist to eager customers at all drive-thru locations. The Rapid Rewards Card is a free swipe card that puts frequent customers on the fast track to discounts and bonus drinks. Cardholders' balances are tracked electronically and balances print out on their guest checks for their personal reference.
Just three days into the Rapid Rewards Launch, program coordinator Matt Bogenschutz was swamped with over 200 customer e-mails.
"People are as excited about the Rapid Rewards Program as we are to offer it," commented Bogenschutz. "Our goal for the Rapid Rewards Card is to offer a moment of pure, unexpected fun at the drive-thru in the form of bonus drinks and discounts."
To kick off the program, Jo To Go Coffee® is offering a very straightforward deal: one free drink after the purchase of ten specialty coffee drinks.
"After customers become acclimated to Rapid Rewards, we can offer multiple programs at the same time," said Bogenschutz. "For instance, our location in Escanaba has chosen to offer a Smoothie Tour program which puts customers on track to earn a free smoothie and a free specialty coffee drink at the same time."
Customers interested in joining the Rapid Rewards Program can pick up their free swipe card at any Jo To Go Coffee® location. Participants in the program can then officially register their card on the Jo To Go Coffee® rewards page, which allows them to view featured bonus plans, as well as their current progress towards coffee nirvana: the Rapid Reward.
Jo To Go Coffee® is a leading specialty coffee drive-through. Founded in Green Bay, Wisconsin in 1998, Jo To Go Coffee® caters to busy lifestyles with speed, convenience, and fun. Jo To Go Coffee® has been hailed by Entrepreneur Magazine as the counterbrand to the world's leading specialty coffee retailer and continues to add coffee franchise opportunities across the U.S. The drive-thru coffee bar has franchises under contract in Georgia, Illinois, Kansas, Michigan, Missouri, New York and Wisconsin.
###