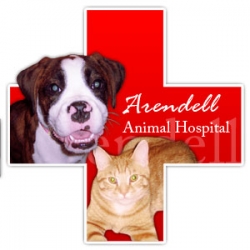 Morehead City, NC, September 13, 2011 --(
PR.com
)-- Arendell Animal Hospital joins Pets for Patriots Program, partners with charity to help make pet ownership affordable for local veterans.
Arendell Animal Hospital and Pets for Patriots, Inc., a not-for-profit that connects loyal adult shelter pets with our country's loyal service men and women, joined forces to support the well-being of adult shelter pets. An estimated four million shelter dogs and cats are put to death every year, in spite of numerous studies demonstrating the emotional and physical benefits of companion pets. Working with Pets for Patriots, Arendell Animal Hospital gives our service members, veterans and their families the gift of unconditional friendship and love while providing millions of dogs and cats a second chance at life.
Individuals are eligible from any United States armed forces and at any stage of their careers – active, reserve, National Guard, retired or veteran. Eligible adoptions must meet one of the following criteria: dogs or cats two years and older, dogs 40-pounds or larger regardless of age, and special needs dogs and cats. As a Pets for Patriots member veterinarian, Arendell Animal Hospital will provide an ongoing 10% discount off veterinary fees for any dog or cat honorably adopted through the Pets for Patriots program.
"The financial costs of pet ownership cause many people to relinquish their pets at shelters each year, where the majority of adult pets will be killed," says Dr. Richard Hawkes. "We're proud to be part of a program that makes it easier for our nation's heroes to keep their new best friends by providing high quality, reduced-cost veterinary care."
"These harder-to-place pets have years of love and life to give," says Beth Zimmerman, founder and executive director of Pets for Patriots. "Companion animals provide real physical and emotional benefits to veterans and their families, including those suffering from post-combat stress, depression, isolation or physical disability. We're delighted to work with Arendell Animal Hospital to help veterans in our program keep their new pet friends healthy and happy."
Arendell Animal Hospital quickly saw the potential of the Pets for Patriots program. "It's meaningful for our business to be involved in such a valuable cause," says DeAnne Hawkes, Practice Manager."Through our partnership with Pets for Patriots, we hope to keep many adopted pets in loving military homes for years to come."
Individuals interested in the program must first apply through Pets for Patriots and provide proof of their military service. Upon approval, veterans can adopt through local Pets for Patriots shelter partners and bring their new pet friends to Arendell Animal Hospital located at 213 Commerce Ave, Morehead City, NC for excellent care.
About Arendell Animal Hospital
Arendell Animal Hospital is a full service veterinary facility offering experienced, compassionate and high quality care to North Carolina's Crystal Coast residents. The family-run practice has two full-time veterinarians on staff, owner Dr. Richard Hawkes and Dr. Libby Cash, and the hospital is managed by Dr. Hawkes' wife, DeAnne.
As part of their commitment to responsible pet ownership, the hospital provides a free, online library of common pet ailments and information. The staff at Arendell Animal Hospital treat all pets as their own, and provide a personal touch while delivering the latest in high-tech veterinary care. The practice is licensed and experienced in complete medical, surgical and wellness care, and offers a wide range of services for companion animals:
· Annual wellness and preventative care
· Internal medicine
· General, soft tissue, orthopedic and emergency surgery
· General dentistry
· Vaccinations
· Spay/neuter
· On-site laboratory and radiology (x-ray)
· Veterinarian supervised dog and cat boarding
· Euthanasia counseling and cremation
Hours:
Monday - Friday 7:30am-6pm (appointments start 8:30am)
Saturday - Sunday 8-9am, 5-6pm (boarding drop-off/pick-up only)
Contact:
Phone: 252-726-4998
213 Commerce Avenue
Morehead City, NC 28557
www.arendellanimalhospital.com
Like us on Facebook
About Pets for Patriots
Pets for Patriots, Inc., is a registered 501(c)(3) charity that connects hard-to-adopt shelter pets with service and veteran members of the United States military. Its mission is to consistently give the gifts of fidelity, joy and companionship to both pet and person. Pets for Patriots is one of the only organizations in the country dedicated to both at-risk pets and military members. Visit
www.petsforpatriots.org
for more information, follow on Twitter at www.twitter.com/petsforpatriotsand become a Facebook fan at www.facebook.com/petsforpatriots.
Arendell Animal Hospital
DeAnne Hawkes, Practice Manager
###