Culinary Bad Boy Productions Presents: Cooking 101: Secret Tips and Recipes from Celebrity Chef Chris Nirschel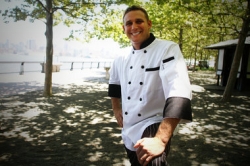 New York, NY, September 14, 2011 --(
PR.com
)-- Hoboken's Culinary Bad Boy, Chef Chris Nirschel has crossed the river and is stirring up a Calendar of Master Classes beginning Saturday September 17th, 2011 and every Saturday thereafter at Copia Lounge - 307 E. 53rd Street (between 1st & 2nd Ave) NYC from 4:00pm-7:00pm.
The Series, entitled Cooking 101: Secret tips and recipes from Celebrity Chef Chris Nirschel, will include a demonstration, wine pairing, sampling, dinner and a Q & A segment. Chef Nirschel will feature a different ethnic cuisine each month and will include vegetarian dishes in each menu.
The first month of the series will focus on Italian basics. Spend an afternoon learning the secrets of mastering Italian Cuisine and pairing the perfect wine to savor each bite with. Master a trilogy of coveted Sauces, the "Primi & Secondi Piatti" and savor wines from Italy's most extraordinary Vineyards. Enjoy dining on all you have learned to make while Executive Chef Nirschel answers all your questions.
Each Ticket includes: a two hour demonstration and wine pairing followed by dinner and one hour questions and answers segment. Space is limited per class and built on a first come first serve basis. Reservations are recommended three weeks in advance. There are a number of seats reserved for members of the press in each class. Please contact Nicole Bandklayder for all press seating and inquiries.
About Chef Chris Nirschel:
Chef Chris Nirschel has been featured nationally on CNN, NBC, The Food Network and seen in Food and Entertainment spotlights on the Daily Connection, Better TV and The Daily. Nirschel began his culinary career at French Culinary Institute in 2009. He became a Sous Chef at The Knickerbocker in New York and as his culinary expertise grew he became Executive Chef at Caffe Napoli in the historic Little Italy of Downtown Manhattan. His food stems from his family's heritage and culinary education which ranges from Argentinean, Italian, and French flavors that influence his cooking today.
About Culinary Bad Boy Productions, LLC:
Culinary Bad Boy Productions, LLC, located in New York, New York is where Fashion Entertainment and Food Unite! We offer high end catering, cooking courses and private event services to our clientele. Catering parties range from 25-300 people and are customized per client request as far as menu creation and pricing package. Cooking courses are organized and taught by Founder and Owner Chef Chris Nirschel.
###
Contact
Nicole Bandklayder
917-690-6161

Contact