MyReviewsNow Online Shopping Showcases Luxury Dog Collars
MyReviewsNow Online Shopping is branching out into luxury dog collars from Dog Collar Boutique. A plain leather collar may have been acceptable in the past, but contemporary dogs need a fashionable collar to suit their owner's lifestyle and Dog Collar Boutique offers the finest.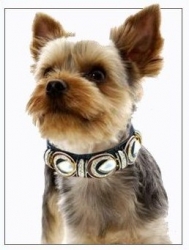 Miami, FL, September 21, 2011 --(
PR.com
)-- MyReviewsNow Online Shopping is pleased to feature luxury dog collars from affiliate,
Dog Collar Boutique
. Dog Collar Boutique offers the finest in luxury designs for the canines of fashion-minded pet owners. Man's best friend deserves accessories that match his or her owner's wardrobe, and Dog Collar Boutique has a selection of collars, leashes, and other items to fit any breed.
Dog Collar Boutique was created in 1992 after Robert Taylor and Brian Lewis were paired up through the Big Brothers Big Sisters organization of Aurora, Illinois. Little Brother Robert and Big Brother Brian have enjoyed the companionship of dogs throughout their life, and the partners wanted to build a store where pet owners could find high-quality products for their canine companions.
Merchandise is sorted into several categories including Designers - Brands, Dog Collars By Color, and Dog Jewelry. Recreational items such as toys and treats each have their own sections. Customers can find whole body coverings like coats in the product lineup, as well as transportation options such as carriers. The company even carries a selection of cat collars for feline lovers.
Bargain hunters can find discounts in the Sales & Specials category, and items in the Clearance section have prices that are 20 percent to 40 percent below their MSRP.
Each item page contains the original MSRP and the discounted price, so customers know exactly how much they will save by shopping at Dog Collars Boutique. Reviews by previous buyers are located at the bottom of every product page.
Repeat shoppers should consider signing up for the Friendship Program. A Friend of the boutique earns loyalty points, receives promotional offers, and saves money with every purchase. Loyalty points may be applied towards any purchase after a member's first purchase while enrolled in the program. Points are earned at a rate of one for every dollar, and 15 points is equivalent to a dollar at redemption.
Customers who sign up for the email newsletter will gain access to new products, rotating specials, and weekly giveaways. The newsletter also highlights dog-related news.
If customers are unsure about their furry friend's measurements, trained customer service representatives can answer any questions about measurements or sizing. The company can be contacted via their toll-free number at 1-(877)-800-8181, or shoppers can use the live help instant messenger during normal business hours.
Customers may use American Express, Discover, MasterCard, or Visa credit cards to pay for their purchases. The company also accepts Google Checkout and PayPal. Gift certificates are available for people who need a present for a fellow pet owner.
The boutique offers a flat shipping rate of $4.95 for all purchases within the continental United States, and orders are sent by standard ground shipping. Purchases of $100 or more will be shipped free of charge. If the customer is willing to pay for the extra cost, the shipping can be upgraded at their discretion.
Dog Collar Boutique has a 60 day return policy on all of its merchandise. Items must be postmarked within 60 days of the purchase date to be eligible. The company requires returned items to be in original condition, and any original packaging must be included in the return.
All return shipping is free inside of the continental United States if customers print off the prepaid domestic shipping label from the website. There is no restocking fee, and any exchanged items will also be sent to the customer with free shipping.
For further information regarding Dog Collar Boutique, please visit MyReviewsNow Online Shopping.
###
Contact
MyReviewsNow
Chickie Maxwell
863-646-7075
myreviewsnow.net

Contact