Open House Set for Christmas in Maxwell
Announcing the 15th Annual Christmas Open House for Christmas in Maxwell. A quaint but classy Christmas store located in northern CA host an annual Holiday Champagne Brunch to launch the Christmas Holiday Shopping. October 15th, 2011 - 11:00 am; RSVP: 530-438-2971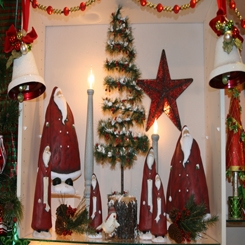 Maxwell, CA, September 16, 2011 --(
PR.com
)-- Shoppers start the Holiday early at Christmas in Maxwell; the annual October open house launches the holiday season.
Lindia Daugherty, owner and Nancy Gilbert, decorator, have been planning and decorating Christmas trees for this event since June and now over 25 decorated Christmas Trees are ready to be unveiled for the Christmas season.
Celebrating the 15th Christmas Open House, the trip to Christmas In Maxwell has become, a pilgrimage for many Christmas shoppers in Northern California. Shoppers arrive from as far north as Seattle, WA and as far south as Southern California for this holiday shopping frenzy.
Christmas in Maxwell is celebrating 15 years of holiday happenings along with the adjoining business known as Creative Looks which has been own by Daugherty for over 30 years. Christmas in Maxwell is located in the heart of the Sacramento Valley in Colusa County in a little town named Maxwell. Daugherty and her family have lived in the community for over five generations.
You will be amazed with the variety of Christmas decorations, Christmas ornaments and the wonderful Christmas decorating ideas you will find at this quaint but classy Christmas Store. The Christmas Store is designed by themes as you enter the main door, Candy Canes, Holiday Cup Cake ornaments adorn the kitchen Christmas Trees. As you stroll into the next room you will find holiday aprons, gourmet holiday cake mixes, jams and jellies and more beautiful Christmas Trees with wine décor ornaments. Santa and snowmen figurines are throughout the room. Then a stroll down the garden path to the two story Christmas barn, which is filled with 25 Decorated Christmas trees. You will enjoy the many Christmas themes, Western, Hunters, Mountain Cabin, Retro, Contemporary, Black& White, etc.
Join us for the 15th Annual Holiday Open House and Champagne Brunch
Date: October 15, 2011 - 11:00 am to 5:00 pm
Cost: $15.00
Location: 385 Oak Street, Maxwell, CA 95955
RSVP: 530-438-2971
Reservations required to attend the Open House.
This unique little store also offers the best for gourmet kitchens and their cooks, Daugherty is quite the baker and she know how important it is to have the right cookware and utensils for preparing holiday meals. The newest Flame Proof Cookware by Emile Henry, from flame to refrigerator and to table. The shop is well stocked with All Clad cookware, Cuisinart mixers, toasters, coffee makers and more.
Visit Christmas In Maxwell, even though it is tucked away in this little California farming community, it is a refreshing break from big city shopping. Selective shoppers are surprised to find the high-quality items available in the Christmas store and do a large portion of their gift shopping there every year. Christmas in Maxwell offers free gift wrapping.
Holiday Hours: Open every day until Christmas, 10:00 am – 5:00 pm. Groups of 6 or more call ahead and Lindia will have refreshments and treats.
###
Contact
Christmas in Maxwell
Lindia Daugherty
530-438-2971
christmasinmaxwell.com
385 Oak St, Maxwell, CA 95955

Contact
Multimedia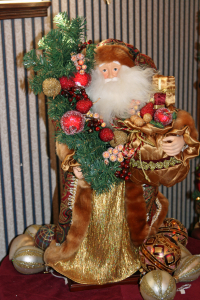 One of the many beautiful Santas at Christmas in Maxwell, Christmas Shop in Northern California