Joe Blessett - Chillin Out in Dark Places
Chillin out in Dark Places, the latest release from the multitalented, multi-instrumentalist Joe Blessett, shines the spotlight on the persistently evolving music of a genuinely enigmatic artist who has chosen to work solitarily in the shadow of relative anonymity in pursuit of his own uncompromising vision.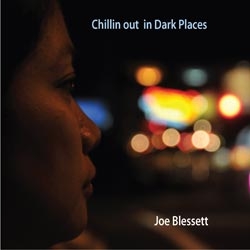 Orlando, FL, September 20, 2011 --(
PR.com
)-- A saxophonist/six-stringer/keyboardist/bassist, Blessett unabashedly confesses that he "does not play well with others" and has chosen to create his own unique sound solo, with the aid of modern computer technology. Influenced by the barrier breaking electric music of Miles Davis and like minded players from fusionists Weather Report and Buddy Miles to soul survivors Junior Walker and Booker T and the MG's, Blessett's songs are inspired by the myriad sights he's seen throughout his world travels.
In explanation of the visual inspiration for his sonic adventures, Blessett told AllAboutJazz.com, "Best way to put it is that I translate what I see into a musical composition. Imagine hovering above a freeway with a night sky as the canvas. Watch the automobiles traveling at different speeds heading two different directions, moving along separately but in unison; getting on and off as needed, creating a fluid motion." The thirteen tracks that comprise
Chillin out in Dark Places
do indeed move fluidly, unconstrained by the restrictive demands of typical song form. Describing his music as "embodying a nice groove with a little edge," the songs come together to paint a telling portrait of an artist creating from his own personal perspective.
Blessett declares that the opening title track "Chillin out in Dark Places" may seem "a little out of place," but Blessett explains its genesis and its place within the context of the disc. Written for his favorite female comedian, Margaret Cho, with whom he was photographed at the 2011 Grammy Awards, he says that what he heard was "dark places" – an astute appraisal of the humorist's biting satire. The lyrical eastern tinged alto saxophone, in conjunction with a ringing open belled trumpet, contrasts effectively with the contemporary keyboard/guitar cushion over which it is played, creating a sense of dramatic tension and release as the moods shift seamlessly, much like Cho's mischievous monologues.
"Tell Me Something" is a modern love song, a passionately played saxophone melodically dialoguing with a virile male vocal that pleads, "Baby tell me something" and declares "I do love my baby," while in the background ethereal swirling keyboards transition to a soulful earthy organ, offering a resolving narrative quality to the track.
The churchlike organ that is at the fore of "Help Me Pray" is most appropriate to the song's message clearly stated in its title. Blessett's lyrical synthesizer voice, gives the piece a peaceful hymnal quality that fades easily into the heavens.
"Better Days" opens with atmospheric keyboards laying down a groove with sampled drum rhythms over which Blessett's soulful saxophone soars with a bluesy zeal in a call and response pattern with the various other instruments, with everything coming together for a truly appealing conclusion.
The down and dirty mood of "Slayers and Players" is set by a curious repeated guitar/keyboard figure – alternately alluring and portentous -- with Blessett's gritty sax calling out with a potent urban sound. Here the composer's uncanny ability to create sound from sight is at the fore, as he conjures the image of street corner society with all its danger and excitement.
"What's Your Secret" is a sexually charged anthem - a softly inviting ambient environment with the sensually sighing voice of a female steadily moving to the rhythms of the music, eventually crying out in ecstasy and before settling back into restful repose.
Miles meets minimalism on "Deep Dish Grind" with an insistently repetitive machine-like melodic line reminiscent of the former's "Jean Pierre" setting the tone that organically develops into a funky dance groove, with a barrel house trad piano coming to the fore only to be replaced by a futuristic keyboard that takes things out into space.
Full bodied brass opens "Morning After" - one of the date's jazziest tracks – with a steady sizzling sock cymbal beat setting a groove with a synthesized female vocal choir – reminiscent of Earth, Wind and Fire -- counting of the time in unison. Trumpet and trombone sounds converse with the voices as the piece slowly builds in dynamic intensity to a rewarding resolution.
"Taking Pause" blends Blessett's soulful sax with his signature synthesizer sound, the two slowly grooving together in a sensuous dance, with various voices and other instruments joining in the festivities.
The influence of Miles Davis can be heard again on "Friends, Wine & Good Times" with a trumpet fanfare and swinging tenor introducing an "In A Silent Way" styled background giving way to a spacey female scat chorus. Blessett's grooving guitar is heard to good effect for a chorus prior to the trumpet/voice coda.
"Scotch & Water Please" is an exciting soul excursion built upon a hard hitting piano figure, with a voice crying out "It's like your money can buy anything" before Blessett blasts off on tenor, revealing his affection for the sounds of Junior Walker and the Crusader's Wilton Felder. Once more the composer displays his ability to conjure up a cinematic view with distinctive collage-like style of writing.
Pleasing honky tonk and toy piano sounds introduce "Dark Places" contrasting with a gritty Weather Report "Birdland" groove that sets an undertone for the shadowy sounds that point to the contradictory elements of the night life.
The closing "Honey Hush Café" is a straight ahead jazz outing that shows the deepness of Blessett's roots, revealing his talents as a guitarist, keyboardist and horn player, a fitting conclusion to a fine creation of art.
This singular expression of one man's solitary vision, Chillin out in Dark Places shows Joe Blessett to be an artist most capable of expressing to the world the many things he sees while standing alone in the shadows, quietly observing. And how he hears it all coming together to be heard by any who dare to listen.
Artist Website:
www.joeblessett.com
###
Contact
Jazz Promo Services
Jim Eigo
845-986-1677
www.jazzpromoservices.com

Contact