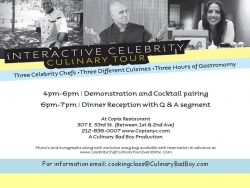 New York, NY, September 21, 2011 --(
PR.com
)-- From Culinary Bad Boy Productions, Chef Chris Nirschel has reunited with self-taught culinary wunderkind and acclaimed Mama's Boy, Chef Vic Vegas along with the Queen of Spice, Chef Susie Jimenez in an all access look at the recipes from Childhood, that defined the methods that they are renown for today. The exclusive experience will take place on Saturday, October 1st at Copia Lounge - 307 E. 53rd Street (between 1st & 2nd Ave) in NYC from 4:00pm-7:00pm.
Each Ticket includes: a two hour demonstration and cocktail pairing followed by dinner and one hour questions and answers segment. Each ticket holder will receive a swag bag and the opportunity for photo's and autographs upon departure. Space is limited per class and built on a first come first serve basis. Reservations are recommended three weeks in advance. There are a number of seats reserved for members of the press in each class. Please contact Nicole Bandklayder for all press seating and inquiries.
About Chef Chris Nirschel:
Chef Chris Nirschel has been featured nationally on CNN, NBC, The Food Network and seen in Food and Entertainment spotlights on the Daily Connection, Better TV and The Daily. Nirschel began his culinary career at French Culinary Institute in 2009. He became a Sous Chef at The Knickerbocker in New York and as his culinary expertise grew he became Executive Chef at Caffe Napoli in the historic Little Italy of Downtown Manhattan. His food stems from his family's heritage and culinary education which ranges from Argentinean, Italian, and French flavors that influence his cooking today.
About Chef Vic Vegas:
A self-trained restaurant chef, worked his way up the culinary ladder from dishwasher to executive chef at a Las Vegas hotel restaurant. He moved from Brooklyn to Las Vegas when he was 13, but his culinary style reflects his classic, New York Italian background. Learning to cook from his mother and grandmother, Vic adds his modern Vegas flair to traditional recipes from his childhood.
About Chef Susie Jimenez:
Susie fell in love with food as a child, where her life took her through the cycle of each harvest with migrant parents that came from Mexico to pick fruit and vegetables throughout the West Coast. She pursued her passion for cooking by attending the California Culinary Academy in San Francisco and continued to create her own latin twist. She now owns her own catering company, Spice It Up serving the Roaring Fork Valley with demonstrations, cooking classes, event and catering events and dietary restriction needs.
About Culinary Bad Boy Productions, LLC:
Culinary Bad Boy Productions, LLC, located in New York, New York is where Fashion Entertainment and Food Unite! We offer high end catering, cooking courses and private event services to our clientele. Catering parties range from 25-300 people and are customized per client request as far as menu creation and pricing package. Cooking courses are organized and taught by Founder and Owner Chef Chris Nirschel.
###