A2L Consulting Releases The Patent Litigation Trial Presentation Toolkit
This Free E-Book is written for patent litigators, in-house counsel and the litigation support staff that assist in developing patent litigation trial presentations. The Patent Litigation Trial Presentation Toolkit offers practical advice based on real-world experience by A2L Consulting that has recently generated more than $1 billion in patent litigation victories.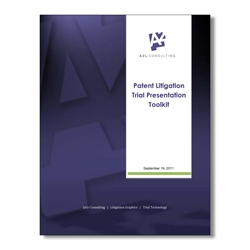 Washington, DC, September 22, 2011 --(
PR.com
)-- A2L Consulting released today the latest in its "e-book series" –
The Patent Litigation Trial Presentation Toolkit
. A2L Consulting's e-books are a collection of educational, free and downloadable electronic books containing easily digestible content for updating savvy litigators, in-house counsel and litigation support staff about developments in the litigation consulting industry.
A2L's e-books provide hard-to-find tips about the latest litigation graphics and litigation technology techniques, trial tactics, trial consulting developments and courtroom presentation innovations. With patent litigation comprising a large part of the over 10,000 cases supported in the company's 16-year history, there is a deep well of knowledge and techniques that the A2L team has amassed. The topics covered in this complimentary patent litigation trial presentation e-book include:
--- Teaching Science to a Jury: A Trial Consulting Challenge
--- Patent-Infringement Trial Graphics Illustration PowerPoint
--- Legal Animation: Learn About the Four Types Used in the Courtroom
--- Trial Exhibits: Antitrust, Pharmaceuticals and Hatch-Waxman Litigation
--- Litigation Graphics: The Power of Checklist Trial Exhibits
--- Memorable Markman (Claim Construction) and Patent Litigation Trial Graphics
--- Litigation Graphics: Timelines Can Persuade Judges and Juries Graphics
--- Semiconductor Patent Litigation Graphics: What is a MOSFET
--- 5 Ways to Research Your Judge's Likes and Dislikes
Ken Lopez, CEO at A2L says about the e-book series: "At A2L we strive to be more than a consultancy for litigation support – we work tirelessly also to impart what we learn back into the knowledge base of our contacts, clients and customers." He further commented, "With the overwhelming success of The Litigation Consulting Report blog, I think we've demonstrated that there is a thirst for knowledge and a wealth of great topics that we can comment on and share information about. Having prevailed on innumerable patent cases over our 16 years of working with the top law firms, we have a virtual fountain of great examples and ideas demonstrating how to make complex topics easy to convey and understand."
While many companies want to hold their creative ideas close to the vest, A2L believes that the proverbial "rising tide floats all boats" and that the open collaboration of smart litigators, trial technologists and litigation consultants allows for the continued advancement of the industry. Furthermore, as juries and judges have high expectations that litigators will provide a high-tech information presentation with great visuals to back up their facts – in patent cases in particular; great trial graphics and courtroom presentations are an absolute must.
As the trial presentation and litigation consulting industry continues to expand, you can expect to see even more informative publications that will keep the ideas and dialog going in the legal industry. A2L Consulting plans on releasing its next e-book soon. Ken Lopez expanded on this by saying, "With so many interesting topics to explore, you can expect to see a lot more about patent litigation and other litigation hot-topics. In fact, I think it's fair to say that with the release of this latest e-book, we're just getting started!"
The complimentary e-book, The Patent Litigation Trial Presentation Toolkit, may be downloaded here:
http://www.a2lc.com/patent-litigation-trial-graphics-and-presentations---free-e-book/
About A2L
A2L Consulting offers litigation consulting services to law firms and corporations worldwide. The firm's services include jury consulting, the consultative design of litigation graphics and deployment of pre-trial technology, courtroom electronics and the personnel to support that technology. A2L headquarters is in Washington, DC and it has personnel or a presence in New York, Miami, Houston, Chicago, Los Angeles and San Francisco. The firm's work routinely takes it to those cities plus Boston, Newark, New Jersey, Wilmington, Delaware, Philadelphia, Virginia, Maryland, Atlanta, Dallas, Phoenix and London, England. Since 1995, A2L Consulting has worked with litigators from all major law firms on more than 10,000 cases with trillions of dollars cumulatively at stake. www.A2LC.com -- 800.337.7697
###
Contact
A2L Consulting
Nina Doherty
800-337-7697 x121
www.A2LConsulting.com

Contact