Birth of Baby Giraffe at Dallas Zoo Recorded by 2 Megapixel Security Cameras Installed by Firetrol Protection Systems
Firetrol Protection Systems was commissioned by The Dallas Zoo to install 2 high definition cameras and network video recorder to record the recent birth of "Jamie," the newest member of the giraffe family at The Dallas Zoo.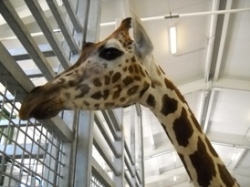 Dallas, TX, September 25, 2011 --(
PR.com
)-- Firetrol Protection Systems Installs High Definition Security Cameras at The Dallas Zoo to Record Birth of Baby Giraffe Brood at Their African Savannah Exhibit.
The Dallas Zoo commissioned
Firetrol Protection Systems
to install a high definition video surveillance system to capture and record the live birth of "Jamie," the newest giraffe baby brood at their African Savannah exhibit. Firetrol installed the system in July, 2011 and the baby giraffe brood was born in August. 2 megapixel, high definition security cameras were installed at each corner, up high in the mother giraffe's stall anticipating the big event. Jeremy Dillon, an expert zoologist specializing in giraffes stated that mother giraffes typically do a lot of pacing and moving around prior to the birthing of a new brood, so the entire stall had to be covered by the high tech cameras. Additionally, no one knew whether the baby would be born during the day or at night, so Firetrol technicians installed nighttime infrared illuminators to make the stall totally visible at night. The video was recorded to a new network video recorder that Firetrol connected to the Zoo's existing computer network so that zoo handlers could check in on the mother 24/7 - even from home or from their smart phones. The ability to remotely monitor the mother in her stall, real time, was a great benefit for the safety of the mother prior to the birth. As it turned out, little Jamie came into this world around 10am in the morning and the video that captured the birth was stunningly high resolution. In addition to the mother and new giraffe brood being happy and healthy during the birthing process, zoologist at the Dallas Zoo can now study the entire process and animal habits due to the entire event being captured on such a high definition video format. When one of the Firetrol installing technicians asked Jeremy how long it would be before the newly born giraffe brood would walk after being born, he replied, "A few minutes - out in the wilds of Africa, if you don't get moving quick, you end up being some other animal's lunch."
###
Contact
Firetrol Protection Systems
Ron Walthall
214 343-9200
dfwfiretrol.com
Ron's Cell: 214-707-1279

Contact