What a Difference One Year Makes: Buyers of Market Research Are Dramatically More Satisfied with Price
After years of price pressure, additional price reductions across most MR segments are now unwarranted.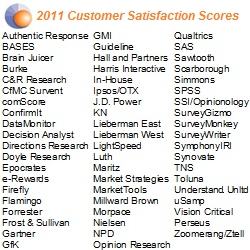 Stamford, CT, September 27, 2011 --(
PR.com
)-- The third annual industry survey recently released by MarketResearchCareers entitled the "
2011 Market Research Supplier Satisfaction Survey
" reveals buyers of market research are dramatically more satisfied with prices of market research compared to the same time just one year ago.
And while the importance of factors influencing the buying decision experienced only modest changes during the past 12 months, customer satisfaction levels along multiple dimensions, including price, dramatically increased since 2010. In particular:
1. Buyers of Online Sample are more satisfied with the level of honesty provided by respondents and the price of online sample. While participant honestly levels remain a clear opportunity for improvement, the 2011 Survey reveals lower prices are no longer necessary.
2. Full Service Research buyers are significantly more satisfied with the depth of analytical insights provided, the level of category expertise provided by MR Suppliers, and the prices charged. Interestingly the 2011 Survey also reveals lower prices are not necessary.
3. Buyers of Syndicated Market Research, like their Full Service and Online Sample counterparts, are also significantly more satisfied with price -- limiting or even eliminating the need for future price reductions.
4. Users of online survey software are significantly more satisfied with their integrated data analysis tools -- virtually eliminating the need for additional investment or development in this area.
"Given the sharp changes in segment-wide customer satisfaction levels, MR Suppliers need to re-prioritize their efforts to better serve their customers and drive their business," said Mike Carroll, Director of Sales and Marketing for MarketResearchCareers.
In addition to revealing important industry trends, the 2011 Market Research Supplier Satisfaction Survey also provides an in-depth, by company scorecard for 65 Market Research Suppliers across five industry segments, including:
* Online Sample Providers
* Qualitative Research Providers
* Full Service Research Providers
* Syndicated Research Providers
* Online Survey Software Providers
"With six customer satisfaction dimensions reported for each of 65 Market Research Suppliers, 2011 Market Research Supplier Satisfaction Survey is the only resource that enables MR Buyers and Suppliers to monitor changes in customer satisfaction over time, benchmark and monitor the competition, and quantify and prioritize shifting industry trends," said Carroll.
The Survey was conducted between July 22 and August 9, 2011 with 501 market research professionals completing the survey -- providing an aggregate data tolerance of +/- 4.4%.
For more information about the 2011 Market Research Supplier Satisfaction Survey, please visit: http://www.marketresearchcareers.com/2011
About MarketResearchCareers
MarketResearchCareers is the career website with the most comprehensive database of resumes and jobs focusing exclusively on the Market Research industry.
Visited monthly by nearly half of all market research professionals in the United States and possessing the resumes of more than 40,000 market researchers, MarketResearchCareers is the market research staffing headquarters. See why so many corporate hiring managers, human resource professionals, market research suppliers, and thousands of skilled researchers turn to MarketResearchCareers to fill their market research jobs.
Visit them on the web at http://www.marketresearchcareers.com/ or call them at 1-800-872-5401.
###
Contact
MarketResearchCareers
Mike Carroll
800-872-5401
www.marketresearchcareers.com

Contact
Multimedia
Report Table of Contents and Methodology