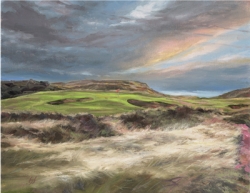 Powell, OH, October 03, 2011 --(
PR.com
)-- Golf Impressions Plus (www.golfimpressionsplus.com), an online art gallery featuring the golf course landscape paintings of Ohio artist Guy Salvato, announced today that Limited Editions Giclée prints of some of Salvato's most popular paintings are now available.
Selected among more than seventy of Salvato's original golf course landscape paintings, The Limited Editions series includes eighteen of Guy's most popular works such as Scotland's Turnberry and Royal County Down, Royal St. George's in England as well as Pinehurst, Pebble Beach, and Shinnecock Hills in the United States.
The Limited Editions Giclée prints are available on museum grade canvas (original oils) or archival quality rag paper (original watercolors). Each is shipped rolled in a sturdy commercial-grade shipping tube, includes a Certificate of Authenticity (listing title of work, size, date and artist's name) and is numbered and signed by Guy Salvato. The sizes of the limited edition Giclées range from 8x10 to 12x18 and conform to the dimensions of the original paintings. Each signed and numbered print is limited to only 50 copies and is priced at $299.
"The Limited Editions Giclée series is truly special, allowing anyone, from the serious collector to individuals with an appreciation for golf and/or fine art, to acquire limited quantity pieces without breaking the bank," stated Guy Salvato. "While the investment required to attain an original composition is often outside the budgets of most, I am hopeful that The Limited Editions offers a way to collect and enjoy my work that is both as accessible and affordable as the game of golf itself."
Guy Salvato's paintings can be viewed online at www.golfimpressionsplus.com. In addition to The Limited Editions, open edition Giclee reproductions, and original and commissioned works are also available by contacting Golf Impressions Plus.
About Golf Impressions Plus
Golf Impressions Plus (www.golfimpressionsplus.com), is an online art gallery featuring the golf course landscape and other paintings of Ohio artist Guy Salvato. Giclee reproductions, original and commissioned pieces are available to individuals, businesses, and private and public golf clubs.
About the Artist
Guy Salvato was born in Glen Cove, Long Island. He earned a B.S. in Advertising Design from The University of Cincinnati and studied drawing and watercolor under Robert Fabe, Louis Rockwood and Reginald Grooms. For 35 years, Guy and his partner, Fred Coe, ran a successful design studio, gaining international recognition as one of the finest firms in the U.S.
Guy now directs his energies and talent to expressing himself through painting. His paintings have been exhibited in galleries throughout the U.S. and were featured in The Academy of Golf Art's 2005 Juried Exhibition. Most recently, Guy's golf course landscape paintings were featured in Golf Style: Homes and Collections Inspired by the Course and the Clubhouse, published in 2010.
For more information, please visit www.golfimpressionsplus.com or contact 732-266-1877 or email info@golfimpressionsplus.com.
###