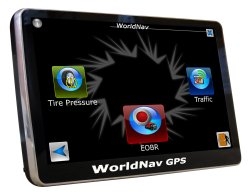 Boston, MA, October 13, 2011 --(
PR.com
)-- TeleType releases the first touch screen tire pressure monitoring system (TPMS) to be integrated into a commercial GPS. Recognizing the importance of tire pressure for safety and fuel efficiency for commercial drivers, TeleType now offers an intuitive, yet advanced tire pressure monitoring system. According to Ed Friedman, Product Manager, "The system is the first of its kind to offer the convenience of color touch screen monitoring of tire pressure on the navigation system allowing the driver to easily set warning parameters and monitor the tires." The tire pressure monitoring system is available for its high resolution WorldNav Truck GPS models. The advanced system offers flow through valves allowing air to be pumped into the tire without the need to remove the sensor. The receiver plugs directly into the WorldNav GPS and provides real-time feedback on the temperature and pressure of each tire being monitored. The receiver can be placed as far away as 100 feet making it possible to use the tire sensors on trailers as well as the cab. The tire pressure system is easily configurable by the driver to provide the warning ranges of both temperature and pressure. The system also warns of slow leaks. If an alert appears, the driver can then touch the screen to automatically display the location of the tire in question.
Brand new features of the updated navigation software include Updated Maps, Extended Address Recognition, Lane Assist, and Junction View offering realistic images of upcoming interstate intersections with directional arrow allowing the driver to better prepare for the next turn. Version 11 also offers an Electronic On-Board Recording System (EOBR) allowing drivers to more easily keep track of Hours of Service. Optional accessories include Traffic Antenna, and Tire Pressure Monitoring System. Responding to driver feedback, additional new features include a separate State Mileage Odometer to help drivers keep track of their fuel tax miles per state. The system includes a complete database of truck stops with facility information as well as weigh stations and these locations can be found along a specified route. In addition WorldNav now includes Expanded My Point entry options, and Additional Trip Statistics such as multiple odometers to make record keeping fast and easy.
Latest truck GPS models include the WorldNav 5200 and 7400 series offering 5" and 7" high resolution screens. These Trucker GPS models are now shipping with Version 11 offering the Junction View Feature which displays a realistic image of the upcoming Interstate Intersections with a directional arrow allowing you to better prepare for your next turn.
The WorldNav version 11 software is also available for separate purchase as an add-on to existing WorldNav Truck and RV GPS models.
For further information contact TeleType Company at 1-800-717-4478, 1-617-542-6220 or email contact @ teletype.com.
###
Established in 1981, TeleType has emerged to become a leader in the field of Global Positioning Systems and was the first company to offer a portable GPS solution for commercial truck drivers. TeleType specializes in software systems integration and innovative products for a variety of industries. Products range from the user friendly GPS navigation systems to advanced developer tools such as Software Developer Kits (SDK). This latest program innovation is yet another example of the pioneering advancements that have — and will continue to — set TeleType apart in the field of GPS technologies.
###