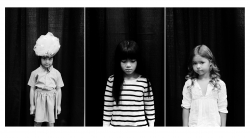 New York, NY, October 17, 2011 --(
PR.com
)-- Children's Fashion Photographer, JaTawny M. Chatmon photographs for Vogue Bambini, a leading children's fashion magazine published by Conde Nast International. A monumental occasion for her first shoot since becoming a mother to her third bundle of joy, Kaicie-October, just 8 weeks prior. Speaking of monumental, JaTawny M. Chatmon Photography has just secured new and exciting representation by Myrna Kresh Artist Representation. Myrna Kresh has been involved in the production of major industry launches and events for top companies such as Apple, Kodak, and Canon USA to name a few and now currently represents a small group of select talented artists through her boutique agency.
As if there wasn't enough excitement in the air, images JaTawny shot for Sew Couture, an upscale kids line designed by TJ Hamilton, wife of Richard RIP Hamilton (NBA Detroit Pistons shooting guard) were released this month as well. Additional photographs by JaTawny were also published in Babytalk Magazine and graced the pages of both their September and October issues.
The past few months have also been unfortunately bitter-sweet for JaTawny, due to a tragedy that turned into art via her camera lens. In December of 2010, JaTawny sadly lost her devoted father to a rare form of Prostate Cancer called Sarcomatoid Carcinoma of the Prostate. Her family's journey through her father's fight inspired JaTawny to quietly document some important moments and create an intimate photo-story of her father's strength and will to live. The story was entered in the One Life International Competition (
http://jatawnymchatmon.see.me/onelife2011
), a worldwide search for photography with a unique and poignant perspective. By using her stirring photographs, JaTawny and her family hope to bring more national and media attention to Prostate Cancer treatment in honor of their beloved father.
Currently, JaTawny is working on a project documenting the daily life of 3 children and building her ever-so-blooming client list.
###