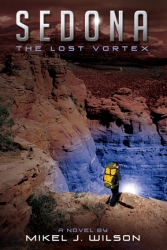 Sedona, AZ, October 15, 2011 --(
PR.com
)-- "Sedona: The Lost Vortex," the debut novel from Mikel J. Wilson, explores the often polarizing subjects of religious faith and paranormal belief. Sedona's celebrated legends of mysterious energy vortexes, UFO visitations, transcendental awareness and other supernatural phenomena clash with the religious zeal of the Christian polestar who serves as the antagonist to the book's atheistic hero.
Although written in the genre of science fiction, the book is, at its heart, a philosophical discussion on the meaning of life from two very different viewpoints. Protagonist Gregor Buckingham adheres to a scientific/metaphysical amalgamation of existence as an accident springing from the Big Bang's spark, a single source connecting everything in the universe. Reverend August Briar, a man who believes himself destined to be God's greatest prophet, unquestioningly adheres to Biblical teachings, including the 6,000-year-old age of the Earth taken from a literal interpretation of the canon.
The conflict arises when Gregor discovers an ancient "Earthly" power that could give August everything he ever wanted, if he is willing to set aside the contradictions tearing at his faith. Does the end justify the means, and how much should you sacrifice to realize your greatest desire? These are timely questions in an age when many political leaders rise to power on a platform of intertwining governmental and religious policies.
Sedona: The Lost Vortex is the first in a planned Sedona series that will build on the mythology established in the book. It is currently being distributed on Amazon.com and at selected retailers.
About the Author
Born and raised in Lebanon, Tenn., Mikel J. Wilson currently resides in San Diego. He began his professional writing career in healthcare marketing, working for two of the most prestigious medical organizations in the country.
Contact
Phone: (619) 764-2964
E-mail: SedonaTheNovel@gmail.com
Website:
www.SedonaTheLostVortex.com
###