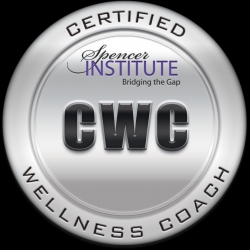 Rancho Santa Margarita, CA, October 18, 2011 --(
PR.com
)-- Now a trillion-dollar industry, wellness encompasses a variety of emotional, environmental, financial, intellectual, occupational, physical, social and spiritual factors that can make a profound difference on an individual's outlook and overall well-being. To help more people become certified in this growing industry, The Spencer Institute now offers a 100 percent online Wellness Coach Certification Program.
The self-paced online program focuses on the knowledge, skills, values, practices and environments that can help people enjoy more balance and fulfillment. The Wellness Coach Certification consists of video lectures and information, a comprehensive digital manual and exam as well as supporting wellness coaching materials. It teaches coaches how to create and promote optimal health, motivate clients to take change of their wellness, work with medical professionals, combine wellness coaching with weight-loss programs, and integrate fitness, nutrition and stress reduction into wellness programs.
"We hear the word 'wellness' every day, so this online certification helps coaches encourage others to find wellness in every aspect of their daily lives," said Dr. John Spencer Ellis, CEO and president of The Spencer Institute and creator of the Wellness Coach Certification program. "The certification combines traditional life coaching, lifestyle fitness coaching, green living, sound nutrition, exercise and stress management, and it is designed to help wellness coaches set up successful businesses that can make a profound difference in people's lives."
The online certification offers a client-centered approach to wellness and includes the foundations of wellness, one-on-one and group coaching dynamics, marketing a coaching business, behavioral change and understanding change, emotional and physical wellness, wellness coaching models, special populations and more. The Wellness Coach Certification program is designed for students with a basic level of knowledge in exercise science, health promotion, behavioral science, wellness, anatomy, physiology, biology, kinesiology, biomechanics and/or nutrition. The course and the exam can be completed within one year of registering.
"When you have the quality of wellness in your life, you will feel better, look better, think better, move better, act better, do better. It's about creating vitality, joy and good health from the inside out," Ellis added.
About the Spencer Institute
Founded by Dr. John Spencer Ellis, an international leader in wellness coaching, personal development and fitness, The Spencer Institute offers life coaching, holistic education, nutrition coaching, sports psychology and wellness training certification programs delivered in online and distance learning formats that are designed to provide a step-by-step blueprint to success. The programs were developed to help people find the career of their dreams while helping others live better lives. For more information about the Spencer Institute or the Wellness Coach Certification Program, please visit
http://spencerinstitute.com/wellness-coach-certification-program/
.
###