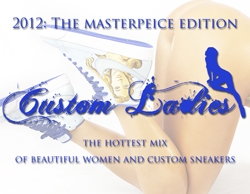 Houston, TX, October 19, 2011 --(
PR.com
)-- Custom Ladies, "The hottest mix of beautiful women and custom sneakers," featuring hot urban models posing in custom sneakers, will host their 2012 calendar release party and Model Call in Houston, Chicago, and New York. Calendars are available for online purchase at the Custom Ladies website http://www.customladies.net.
Custom Ladies 2012 calendar highlights top urban models such as Jayonna Fabro, Andrea Marie, Jossie the Rican Bombshell and more in this year's calendar. Also known as The Masterpiece Edition, captures twelve historically famous paintings, such as Salvador Dali's 1931 painting "Persistence of Memory," DaVinci, Picasso, Van Gogh, and many more.
The designer, Lauren Luna is a classically trained visual artist born and raised in Columbus, Ohio, and has been sharing her artistry with the world for more than ten years. She has recently relocated to Houston, Texas, and is a member of the Montrose Art Society. Luna specializes in custom shoes, from sneakers to stilettos, and her work has been seen on the feet of music artists such as Pharell, LL Cool J, and national radio personalities. Luna has been featured in myriad television appearances, magazines and fashion blogs.
To see more of her work, visit her website www.laurenluna.com and the Custom Ladies website www.customladies.net.
###