Final Approach Restaurant Presents a New Dinner Theatre Experience at the Sheboygan County Memorial Airport; First Production 12/1 – 12/4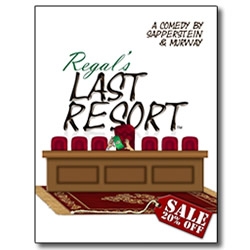 Sheboygan Falls, WI, October 20, 2011 --(
PR.com
)-- The Final Approach Restaurant at the Sheboygan County Memorial Airport, known for their amazing food and dining experience, has come together with J&G Productions, to bring to you a new dinner theatre experience. J&G Productions in Sheboygan, is led by Ralph Maffongelli, former Artistic Director at the Sheboygan Theatre Company and includes many talented and well-known performers in the area.
In an interview with Ralph he stated, "Our first production will be on December 1st through the 4th and will feature an amazing new comedy by Sapperstein & Murway, called Regal's Last Resort. It's about a greedy town council and what goes on when a wealthy town founder passes and leaves his estate to the town itself," he shared. "You'll see many familiar faces on stage including Tamara Richelle Pool, Tyrone Wesley, Robert J. Scheibl, Samantha Lin Pool, Chris Fontaine, Eileen McCormick Kelm, Michael A. Eberhardy and Kevin Horne," Ralph concluded.
This is only the beginning of an aggressive calendar of theatrical entertainment, planned for Sheboygan and surrounding area residents for the 2012 season. "If you love theatre, love great food and live in the area, you really ought to head on over and see what we have planned for you," states Tracy Byrne, J&G Unlimited's VP, COO.
Tickets are available at the restaurant, online at http://shop.JandGunlimited.com or by calling 920-341-3668 where a J&G representative will call you back to finalize your order. You can go to "Dinner and a Show" or "Show Only", and group rates are available for 15 or more. More information about the play, "Regal's Last Resort" is found on J&G's website here: http://www.jandgunlimited.com/PerformanceRightsForPlays_RegalsLastResort.html
About J&G Productions:
J&G Productions is a wholly owned subsidiary of J&G Unlimited, LLC, a theatrical licensing firm representing the writing and composing team of Judith Sapperstein & Gary Murway. For additional information, please visit our website at: http://www.JandGunlimited.com
About Final Approach Restaurant:
The Final Approach Restaurant serves fine dining at a reasonable price. The food is exceptional and the menu is expansive, serving breakfast, lunch, and dinner. In addition to their restaurant, they have a Banquet Facility that can handle up to 650 people for weddings, parties, events, conventions, and more. (www.finalapproachrestaurant.com)
###
Contact
J&G Unlimited, LLC.
Tracy Byrne, VP/COO
215-345-5550
www.JandGunlimited.com

Contact
Multimedia
Dates, times, information about the show, the menu, the cast and a ticket ordering form all included in this colorful brochure.