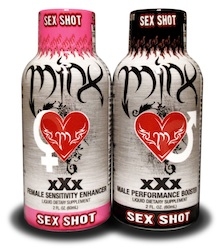 New York, NY, October 20, 2011 --(
PR.com
)-- Stimulicious Brands, a progressive lifestyle company offering a variety of exotic products under the brand name MINX (Erotic-Energy drinks), has recently finalized their listing agreement with Pittsburgh, Pennsylvania based ThirstMonger to sell both MINX Male -xXx- and MINX Female -xXx- liquid dietary supplements on the ThirstMonger.com specialty beverage e-commerce site. Stimulicious Brands also recently revamped their drinkminx-xxx.com website in order to include e-commerce capabilities so as to better keep up with increasing demand for their unique Female Sensitivity Enhancer and Male Performance Booster liquid dietary supplements. These new online sales channels are in addition to Amazon.com and the soon to be completed listing agreement with Buy.com. Stimulicious Brands also uses independent affiliate marketers to further expand online sales and distribution for MINX -xXx-.
"ThirstMonger.com is pleased to welcome MINX -xXx- shots to our portfolio of unique and exciting beverages. We are happy to offer our customers this new lifestyle brand that can increase enjoyment and performance – at a great price with free shipping!" commented Denise Martin, Partner Relationship Manager at ThirstMonger.
"Unlike our MINX Infused Vodka Cocktail product (MINX -hXc-), which consumers purchase at liquor stores or consume on-premise at nightclubs and bars, MINX -xXx- is a bolder, more functional beverage which consumers are sometimes shy and self-conscious about picking up at the checkout counter of a convenience store, gas station, or drugstore. Offering a discreet, convenient and secure online shopping experience is a logical distribution option for a product like MINX -xXx-. We're happy to be added to ThirstMonger's roster of premium, unique beverages and supplements," stated Michaela Schneeberg, Media Relations for Stimulicious Brands and MINX.
About MINX
MINX is a beverage and lifestyle brand with three products. MINX -xXx- is the most functional and potent product in the MINX brand line-up. This non-alcohol, proprietary, liquid dietary supplement is produced in the USA by Stimulicious Brands using a pharmaceutically licensed herbal manufacturing and quality control facility. MINX -xXx- is made with the highest quality vitamins, minerals, amino acids and herbal stimulant extracts to create an enhancement blend like no other. MINX uses safe natural ingredients that support and promote sexual health for both men and women and comes packaged in a convenient and familiar 2 oz. energy shot bottle. MINX is one of the first sex enhancement liquid dietary supplements packaged and marketed gender specific: MINX -xXx- Female Sensitivity Enhancer and MINX -xXx- Male Performance Booster. Stimulicious Brands sells MINX products at retail and online. Consumer purchase options now include; nightclubs, bars, casinos, hotels (in-room mini-bars), specialty shops, convenience stores, gas stations, drug stores and liquor stores. For more information please visit
drinkminx-xxx.com
.
About ThirstMonger.com
ThirstMonger.com aims to be the source to buy niche beverages online. Their goal is to offer consumers the ability to easily order quality products, and have them shipped directly to their homes. ThirstMonger is a subsidiary of GTG Beverages. GTG Beverages' distributor network is comprised of over 45 traditional DSD beverage distributors throughout the states of CT, MA, ME, NH, NJ, NY, OH, PA, RI and VT.
###