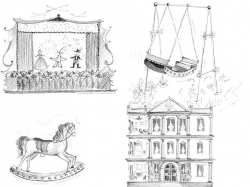 London, United Kingdom, April 19, 2007 --(
PR.com
)-- A pair of spectacular rocking horses by Valentino and Jean-Paul Gaultier; a unique bearbrick doll dressed by Karl Lagerfeld; a stunning children's puppet theatre with a significant difference - styled exclusively by John Galliano; an immaculate – and priceless – doll's house created by Christian Lacroix and a beautiful garden swing designed by Ricardo Tisci at Givenchy – samples of the incredible 'haute couture toys' created by the world's greatest fashion icons, which will be sold to the highest bidder at a charity auction at Russian Rhapsody on April 23 in London.
With less than a week to go before Russian Rhapsody – London's most sensational and exclusive society event – top name fashion designers, celebrities from the worlds of art, sports and show business, nobility and captains of the business and investment community are flocking to London to out-bid each other for a good cause.
Money is being raised for top model Natalia Vodianova's children's charity, the Naked Heart Foundation, during this annual black tie celebration of Russian culture, the arts, tradition and finance. The dinner will be created by French super-chef Joel Robouchon serving Moët & Chandon Champagne and Hennessy cognac. The auction of the haute couture toys will be handled by Christie's.
The warm-up event to Russian Rhapsody, during the Russian Economic Forum week in London, will be Moscow Motion – a high-profile event being organised for the top young Russian elite from the worlds of media, fashion, film, music and business on Saturday 21 April at Old Billingsgate, London. Organizers promise the party will be intriguing, innovative and thoroughly unlike anything that has gone before.
Russian Rhapsody is co-sponsored by CHI and Top Broker to the Stars, Katerina Brosda of Miami Just Listed, who also invited for a cocktail reception during the Russian Economic Forum week.
CHI Tower
is a planned sky-rise on the Atlantic Ocean in Miami Beach and already touted to be one of the most luxurious and exclusive addresses in the sky.
###