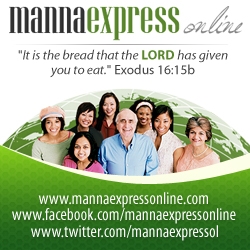 Dallas, TX, October 22, 2011 --(
PR.com
)-- While the rest of the world laughed, Sharifa Stevens anxiously monitored the message boards of Harold Camping followers on May 22, 2011, the day after the "doomsday" Bible teacher Camping had pronounced.
Jesus Christ didn't return -- as Camping guaranteed -- and tens of thousands of his disciples were taking stock of their broken lives. Stevens, a Dallas pastor's wife, believed Camping was a dangerous kook. But she had another reason for paying close attention to his teachings: Her beloved parents were members of the Camping cult.
Stevens tells a searingly personal side of the story in "Harold Camping Stole My Parents," featured in the new MannaEXPRESS (
www.mannaexpressonline.com
) – a Dallas-based Christian newspaper that published its first issue this month.
MannaEXPRESS was started in 2006 by May Olusola, who envisioned a Christian newspaper that "reflected the demographics of heaven." Though she had no background in journalism or publishing, Olusola, a native of Nigeria, saw many stories that Christian media missed – and she set about to tell them.
For nearly four years, she published the paper almost single-handedly. Now, with professional editing and art direction, she has re-launched MannaEXPRESS as a free-circulation monthly available in churches, retail stores, and restaurants in the Dallas-Fort Worth area. Olusola remains as publisher and as a columnist for MannaEXPRESS.
Julie Lyons, editor of the award-winning Dallas Observer for 11 years, melds an alternative-press sensibility with her Christian faith as the new editor of MannaEXPRESS. "I'm convinced that MannaEXPRESS will be like no Christian newspaper you've ever read," Lyons says. "It's edgy, it's urban, it's international, and we're not afraid to tackle the toughest subjects. Yet our foundation is uncompromising faithfulness to the Bible."
Media Contact:
May Olusola (469) 767-3532, molusola@mannaexpressonline.com
Julie Lyons (214) 532-0197, julielyons@mannaexpressonline.com
###