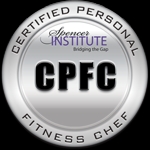 Rancho Santa Margarita, CA, October 25, 2011 --(
PR.com
)-- With the widespread popularity of cooking shows as well as the connection of healthy eating to overall fitness, it's no wonder that personal fitness chefs are a growing and in-demand career. The Spencer Institute now offers a 100 percent online Personal Fitness Chef Certification Program to help train chefs to serve their more health-conscious clients.
The self-paced online training program is designed for chefs who want to appeal to clients who are looking to lose weight or eat better, fitness professionals looking for career diversity, and nutrition coaches who are seeking to combine coaching, food and healthy living into one successful career. Ideal for both beginning and intermediate cooks, the training and certification also includes lessons on marketing and building a successful personal fitness chef business.
"Personal fitness chefs learn to create food that tastes great and that also helps people look and feel great," said Dr. John Spencer Ellis, CEO and president of The Spencer Institute and creator of the Personal Fitness Chef Certification program. "People hire personal chefs with one major goal in mind – to lose weight – and this program helps chefs, nutritionists and coaches really appeal to and better serve their health-conscious clients."
The online Personal Fitness Chef certification includes online manuals, video and audio training, and an online exam; students have one year to complete the program, although most finish within four weeks. The certification program focuses on selecting supplies and utensils, creating healthy menus, finding recipes, making healthy food that tastes great, preparing and packaging, scheduling, grocery shopping, working in clients' kitchens, building a personal chef business, complying with local laws and safety regulations, creating a beautiful presentation and giving group cooking classes for profit. The certification is also a good option for dietitians, weight loss counselors, personal fitness trainers, life coaches, nurses, care givers or others interested in learning more about healthy eating and living.
In addition, the Personal Fitness Chef program earns continuing education credits (CEUs) for ISSA, the Spencer Institute and NESTA.
About the Spencer Institute
Founded by Dr. John Spencer Ellis, an international leader in wellness coaching, personal development and fitness, The Spencer Institute offers life coaching, holistic education, nutrition coaching, sports psychology and wellness training certification programs delivered in online and distance learning formats that are designed to provide a step-by-step blueprint to success. The programs were developed to help people find the career of their dreams while helping others live better lives. For more information about the Spencer Institute or the Personal Fitness Chef Certification Program, please visit
http://spencerinstitute.com/personal-fitness-chef-certification-training-and-business-system/
###