Window Problems Are No Longer a "Pane" Thanks to Essex Glass Shop of Orange New Jersey, Together with New Web Design They Are Cleaning Up
Essex Glass Shop has made a name for itself over years of working with clients but now in a new age of contacting clients they look for a solution to their web woes. They turned to New Web Design, the tri-state's leading web design and online advertising company. New Web Design, gave Essex Glass a new look for the new century. New Web Design used its specialties in Graphics and Advertising to bring the company back to the top.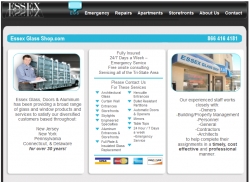 Cedar Knolls, NJ, April 24, 2012 --(
PR.com
)-- Essex Glass Shop, a local glass shop caters to a gambit of needs from residential windows, installation and updates for every kind of client from your neighbor to your favorite neighborhood restaurant. Essex Glass Shop has had years of experience working with their clients and offers anything from traditional windows to skylights, to large display windows for such companies as Wendy's and Reality Corporations. The story of Essex Glass Shop started as a local home business years ago working first on small projects. Once the company started working with New Web Design, the company took off expanding to the tri-state area working with clients as far as Connecticut doing not only their windows but aluminum trim and entrance displays.
Currently located in Orange NJ,
Essex Glass Shop
offers a wide range of services. They are known for their around the clock, 24 hour emergency replacement service. This service is offered to any client, from national retail chain stores, supermarkets and convenience stores to apartment buildings and restaurants. This service helps to keep the business or residence pristine to get new clients in the door. But nothing helped Essex Glass Shop get new clients in the door more than their partnership with New Web Design.
New Web Design took this company and introduced it to a new way of getting business. In today's world, ninety percent of clients find their business by searching online; the web has quickly become the new "yellow pages". New Web Design did this for Essex Glass Shop with its industry setting style of SEO, or Search Engine Optimization. This special skill allows people to be found on large search engines for words that describe the client. While this addition to the web package brings new leads to Essex Glass Shop, it is not the only thing that New Web has done to bring clients to the door of Essex Glass Shop. New Web created a custom branding package for the site that gives Essex Glass Shop a feel that is unique to the company itself. The site itself has a look that follows the sleek glass, with three dimensional pages with "panes" filled with information. New Web Design took ideas from Essex Glass Shop, their style and love of the business and took it to the next plateau.
"After the work done by New Web Design, the company really expanded our services and our presence was really known," said the owner of Essex Glass Shop. "New Web Design really knows their stuff and helped my company take itself to the new level, our work with these large corporations has made my company truly soar." When contacted New Web Design stated that this is just one of the examples that they have, but the true credit goes to the hard work and dedication of the employees at Essex Glass Shop.
Essex Glass Shop' partnership with New Web Design is just one of the hundreds of clients that New Web has worked with. This company has taken companies, like yours, that have been on the edge of closing and brought them back.
New Web Design
would like to extend the olive branch of partnership to you and your company by giving one hour of free consultations with the mention of this article. This call is toll free to you. New Web Design can be reached at 800-587-5355.
Contact
NewWebDesign.com
800-587-5355

Contact