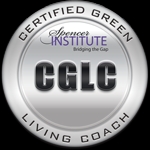 Rancho Santa Margarita, CA, October 29, 2011 --(
PR.com
)-- Going green can be as simple as making a couple changes in your daily life and as all-encompassing as a growing number of career paths that incorporate green environmental and healthy living principles. Likewise, a Green Living Coach certification can help people stand out in a crowded job market with a unique subset of skills. To that end, The Spencer Institute now offers an online Green Living Coach certification to help more people become leaders in their field.
According to the Global Market Institute, 42 percent of Americans are willing to spend more for products branded as organic, environmentally friendly or fair trade, and a worldwide survey by the Boston Consulting Group indicated that buying green products remains a priority despite economic woes: about three-quarters of consumers said it was crucial for companies to have good environmental records.
The online, self-paced Green Living Coach program teaches that going green is not just about energy consumption, but also about personal health, healthy homes and the planet. It reviews both the small and large shifts that can change the world and be shared with others. Further, the focused certification helps individuals and businesses build a marketing and public relations edge, improve employee morale and workplace health and safety, and strengthen the bottom line through improved operating efficiencies and smarter business practices.
"While green represents the environmental focus of this online certification, it also signifies the color of money, and this certification can help people stand out among the crowd in a challenging economy and really boost their family's income," said Dr. John Spencer Ellis, CEO and President of The Spencer Institute and creator of the Green Living Certification program. "Going green is big business, and doing good in the world can also lead to doing well financially."
The online Green Living Coach program can complement other careers, including life coach, nurse, holistic health practitioner, public health educator and more.
"With the Green Living Coach certification, individuals will learn how to coach other people and businesses of all sizes on improving environmental health in the home and workplace, making a significant impact on the planet," Ellis added.
###
About the Spencer Institute
Founded by Dr. John Spencer Ellis, an international leader in wellness coaching, personal development and fitness, The Spencer Institute offers life coaching, holistic education, nutrition coaching, sports psychology and wellness training certification programs delivered in online and distance learning formats that are designed to provide a step-by-step blueprint to success. The programs were developed to help people find the career of their dreams while helping others live better lives. For more information about the Spencer Institute or the Green Living Coach Certification Program, please visit
http://spencerinstitute.com/green-living-coach-certification/